Florian is a great French pistol shooter with the curiosity of an engineer., who's already won the sport pistol World Cup as a junior. In this interview he shares a lot of technical and mental aspects of his shooting. Learn from him and follow his Instagram for more.
How and when did you start shooting? 
It's a family affair. My grandfather was a rifle and pistol shooter. When I was 11 he brought me to an open doors day at his range where I tried rifle, pistol and crossbow. I immediately preferred the pistol, so I started looking for a club close to my parent's place and I found the club de Tir National de Versailles. It is one of the biggest ranges in France, where we can practice shooting from 10m to 300m. They had a shooting school for kids and I started shooting right away.
What made you want to train and compete more seriously? What was your progression like?
I started focusing on competition right away. I think participating in competition and measuring yourself against others was already in me. It motivated me to continue. I qualified in the French national championship on my second year of shooting and then, little by little, I climbed the ranks in different camps, regional, and national trainings, up to the point where I joined the French national team.
What are you most proud of in your shooting? 
Of my journey, which I find interesting, namely in my junior years. I managed to win medals in the Eropean 25m pistol championships and then a great medal at the 2010 world championships, were I was crowned junior world champion in 25m pistol. A great memory and something I'm proud of.
What advice has had the biggest positive impact in your shooting? Who gave it?
I don't think a particular advice changed the way I shoot. During my junior years a lot of technical elements allowed me to progress a lot. Today it is a multitude of little things that allow me to keep on improving, specially getting to know myself better, which is something I'm working on now. It is more about little useful things that I work on daily that end up being useful as a shooter, and not necessarily at the shooting range.
What I'm trying to do now is to feel my inner shooting sensations more: my feet, my balance, my arm, my wrist, my lock… To feel my whole body better. I focus more in my body to see what I should work on, to improve what is interesting to improve as a shooter.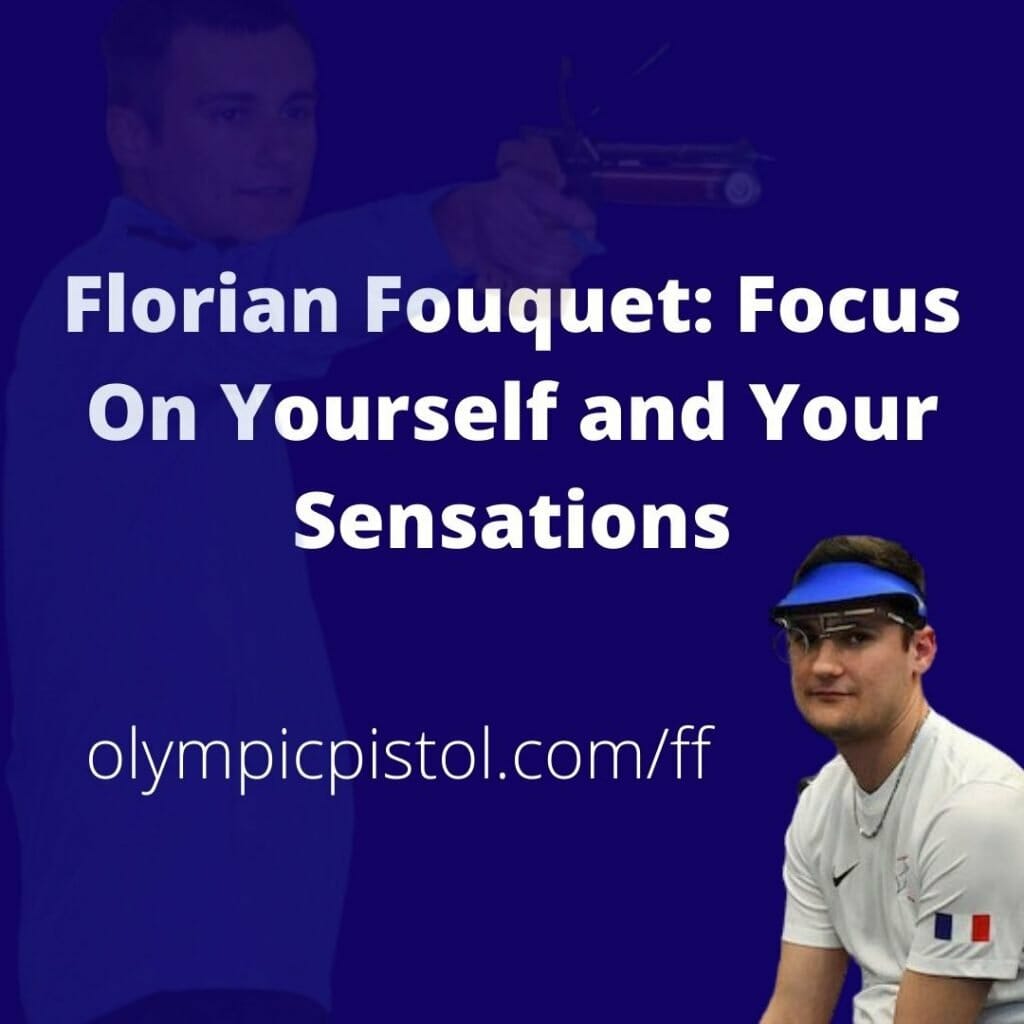 What did you spend a lot of effort on and later discovered it wasn't so important? 
Every little thing I've worked on served a purpose at a moment in time. Of course, some efforts may have paid more, but I don't think that anything is wasted, they build a reserve that can be useful at different moments of our sporting career.
How do you train and how often? What does a typical training day look like? Do you train with a coach or by yourself? 
When I'm not confined I try to train five times per week, once a day. My trainings usually last two to two and a half hours.
I currently train at the Bordeaux national center, where the national coach works the shooters of the team. This allows me also not to be isolated, to exchange with other shooters and to stay motivated.
During the year I try to diversify my training sessions. At the beginning of the season I focus on technical and general fitness. Then, as competitions arrive early in the year with the first world cups in February, we start training more with match like situations, preparing to adapt by changing thinks like the music and others. Anything that will get us closer to a competitive mood.
How do you stay motivated in training and competition?
By diversifying exercises, changing the situation, changing lighting and music, etc. I'm motivated by competing against someone every day too. We don't behave the same way when there's someone close trying to beat us. When you are alone there's something missing.
What do you do before a match or training to get into the appropriate mind space and manage stress?  
I follow a process, a routine. It starts with a body warm up and then I read the notes from my journal about the training sessions before the competition, to try to improve the technical elements that where more effective during training which are going to guide me through the competition. This allows me to really concentrate on what matters.
Then on competition day, when I'm at the lane, I focus on my feet and legs to feel my balance with eyes closed. Every time I get back to my shooting post I do a little routine to really feel my body and my position, and then I change focus to shooting itself.
It's a bit like mindfulness, something new that I've been working on for a few months. I've had a mental coach for a few months now and we are trying to find ways to refocus on myself to release stress, especially at the start of matches.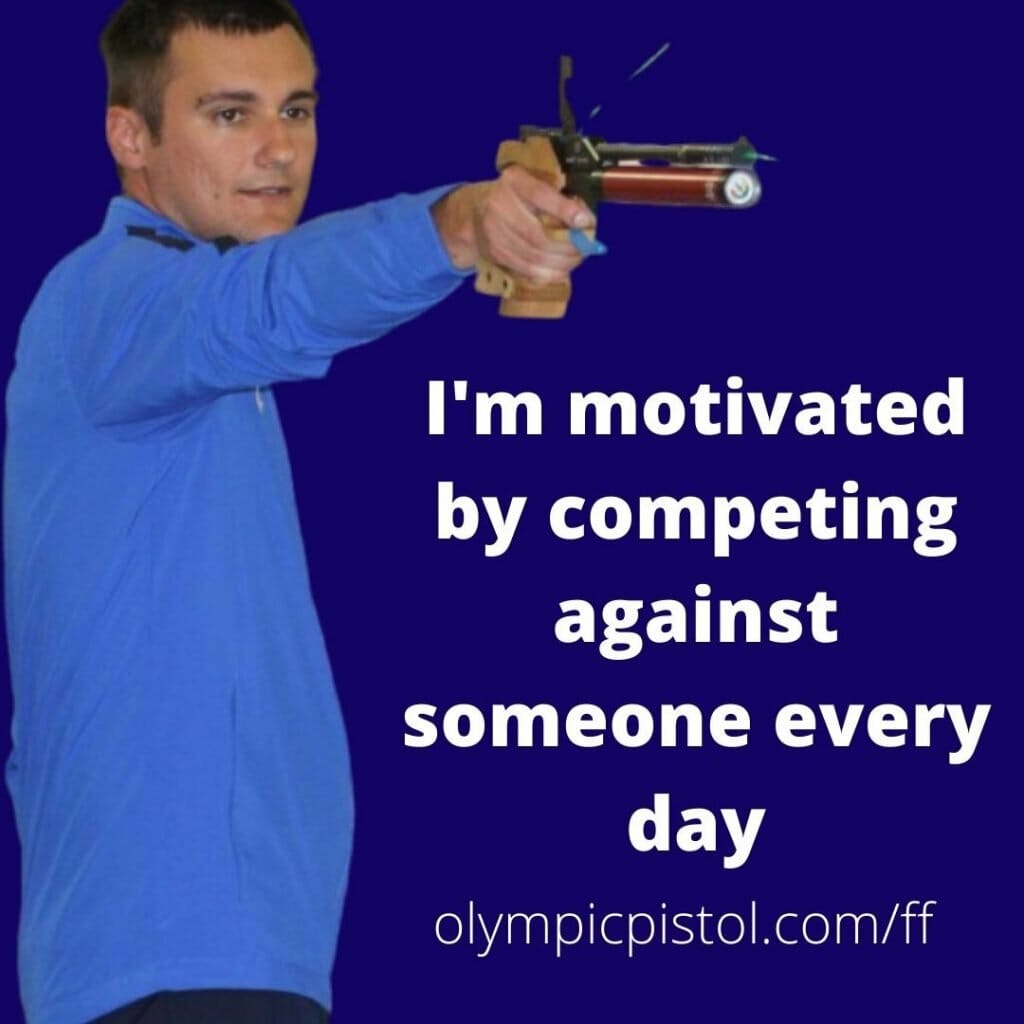 What aspect of the shooting technique has brought you the biggest improvement? How would you recommend people to train it? 
Working on the trigger release, especially related to coordination and my attack from the bottom. I do raise my sights over the target, but then I lower them under and raise again very slowly. That's when I start pressing the trigger and the coordination work is important to have a good shot. It is a very fine moment, where I stabilize and the shot parts almost immediately.
What would you recommend pistol shooters to focus on improving? Can you share one exercise or routine for this? How do you think they should go about it? 
Every shooter has a different personality, but I think that the most important thing is to know yourself, to function to be able to anticipate the emotions that may arrive during a match, so as to stay calm, like working on your breathing.
Because every person is different there's not really one key exercise. We have to find what works for us at that moment. I know that the feeling of anchoring myself to the ground is important to me, and I like it. I try also to work a bit on my breathing and on things that are a bit difficult for me today that I try to push away or not. What matters the most is knowing yourself.
What's your shooting sequence like?
The first thing is a body check: I verify that ma position is good, that I'm relaxed (namely my shoulders). Then I turn my head towards the target and start to extend my arm while I check the hold on the grip. I raise the pistol over the target and then descend slowly. Once I've arrived to my lower area I start raising again very slowly while I press the trigger. When I see that my balance is about to arrive is the moment when the shot must fire. It's like a funnel.
Which tool or equipment can't you live without?
I have not really changed my equipment much in my shooting career, except maybe for my pistol lately, but there's something I've kept for a long time: my gun rest. It is a 25m target support that I've recycled. I always keep it with me. It is old! I already had it at the 2010 world championships in Munich.
What question would you have liked me to ask and what's your answer to it? 
Maybe something about books and films that have inspired me or that have taught me something. Not long ago I read Kilomètre Zéro (Amazon affiliate link) which goes along the lines of learning to know yourself better, which I think makes us look at the world in a different way. I find it an interesting read.
Who would you recommend is interviewed next?
I think it would be interesting to interview coaches, to have their point of view. There are two great examples: Jelena Arunovic and Daniel Goberville (Céline's father).