Céline has been one of the main French speaking shooters I look up to. In fact I look up to her whole family! But it started with her. I'm impressed with her fighting capacity, how when things start bad she toughens up and manages to climb to the top. You have to see her face in those moments. She's also light hearted and laughs a lot, which is a great quality to be around her and watch her release some tension at competitions. I'm now lucky enough to have met her and trained with her. Seeing her and her sister shoot Rapid Fire Pistol is just beautiful.
She's got a lot to say in this interview! Keep on reading to learn a lot from her 🙂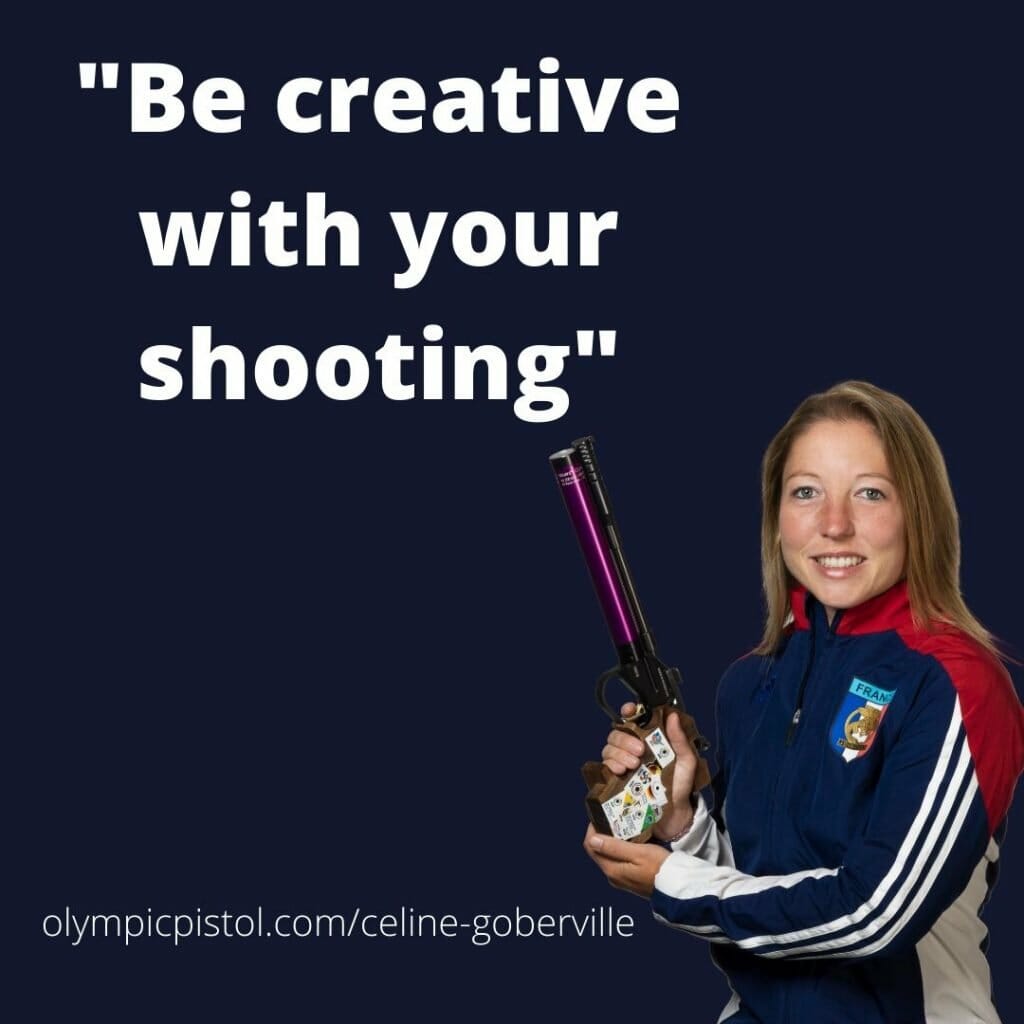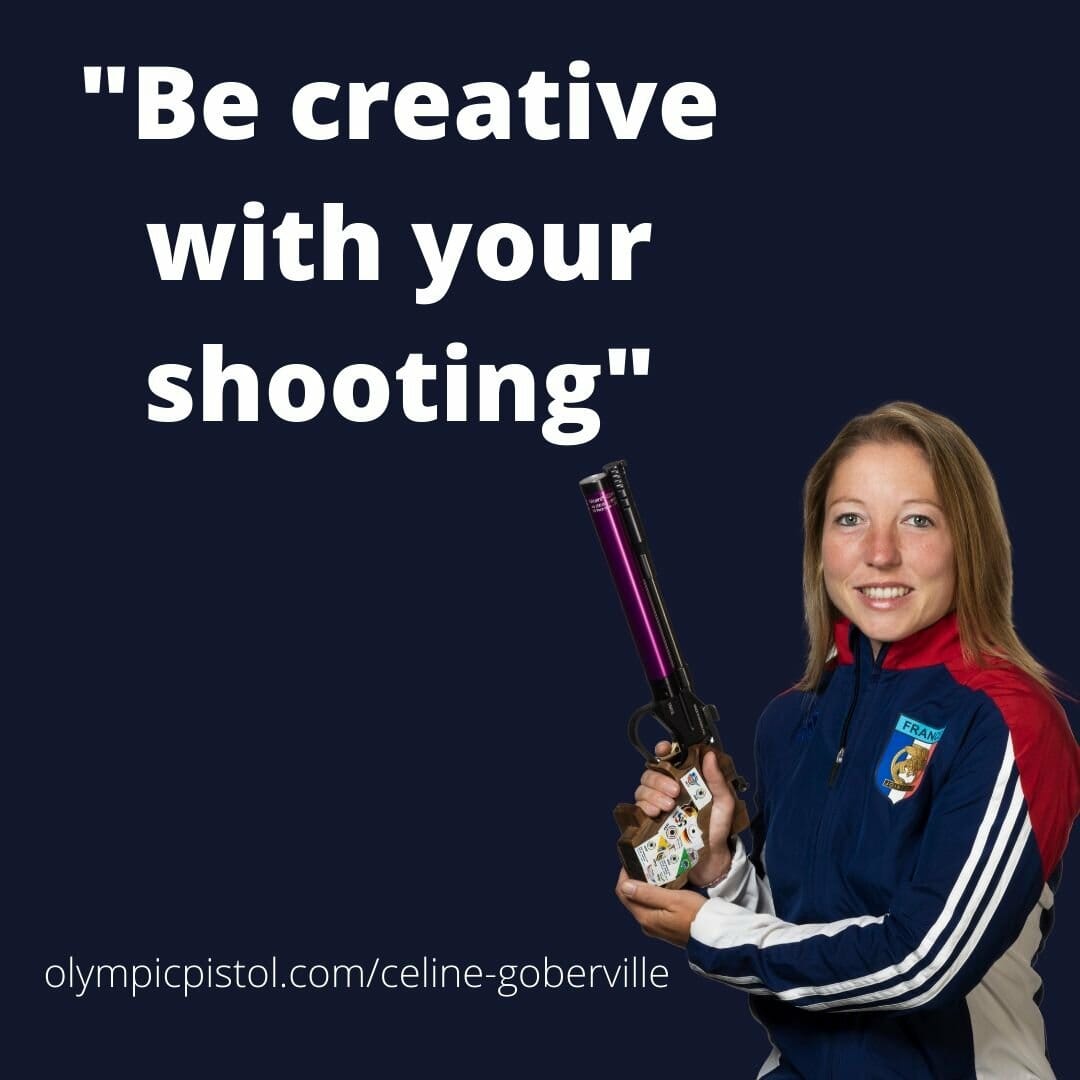 How and when did you start shooting?
A lot of members of my family are international shooters: rifle shooters on my father's side, and pistol shooters on my mother's side. My sister Sandrine and I have known the shooting ranges for a long time ! She started shooting at 6 years old. For me it was more difficult, so I started at 9 years old. We were shooting rifle first and then changed to pistol a few years later.
What made you want to train and compete more seriously? What was your progression like?
My father became our trainer in 2000, and we've been shooting well since then. I had my first National medal in 2000 and I participated in my first international competition in 2001! I've been part of the French National Team since 2001. I train with my father and my sister, at home and during the competitions!
What are you most proud of in your shooting?
I lived a lot of good moments and achievements, winning medals in world cups, being able to be 3 times European Champion was incredible for me. But my best achievement is my silver medal at the 2012 Olympic games in London. Such an incredible moment…
What advice has had the biggest positive impact in your shooting? Who gave it?
Franck Dumoulin showed me that we don't have to be scared of being creative in our shooting. Work hard and technically during training but do what is the best at the present moment, the most effective during competition.
What did you spend a lot of effort on and later discovered it wasn't so important?
For me, nothing is unimportant. During all my career I've been testing technical skills: different triggering, different places to aim, different ways to come in the target… I keep the things that are good for me, but I think it was good to test the other ways too. I know what is good for me or not, and I improve my skills in general.
How do you train and how often? What does a typical training day look like? Do you train with a coach or by yourself?
In a "normal week" :
shooting trainings 4 times (but it depends on the period..),
3 times physical trainings (dance, pilates, body core, fitness),
horse riding everyday,
mental preparation 3 times.
During shooting training, we have a warm up, technical training, performance training and stretching. We train together: my father as coach, my sister and I.
How do you stay motivated in training and competition?
I don't really like training but I know it's essential to perform in competition! Training with my sister and my father is my best motivation.
Competition brings with it lots of travel, friends and an exciting journey! I like to work on myself to be a better person and have a better control of my emotions.
What do you do before a match or training to get into the appropriate mind space?
Before a match I have a good warm up with a routine (the same I do for training), I can listen to music if I feel that I need it: to calm down, or to be more of a fighter. For the last year I've been testing doing some meditation exercises before the match.
How do you manage nervousness through a competition? Can you give an example of a technique you use when things are not going well?
I do some breathing exercises, I imagine a good shot.
I know that it's difficult, but I keep fighting because I know that sometimes we can have pleasure during a match, it can be easy; and most of the time it's difficult and we have to keep doing our best! It's just normal… We know that competing is not often easy!
What aspect of the shooting technique has brought you the biggest improvement? How would you recommend people to train it?
I think 2 skills are important to improve :
First, and the most important is the trigger! Training different ways of releasing the trigger can improve your own way of doing it. The most important thing is not to move move at the end of the shot.
Second is stability : it's not a problem if stability is not very good… if you have good coordination. But we can improve it with holding exercises, and working on the shooting position. It's easier to coordinate with good stability.
What would you recommend pistol shooters to focus on improving? Can you share one exercise or routine for this? How do you think they should go about it?
For technical exercises see my previous answer.
Mental preparation is really important, it's not used enough in shooting, but I think it makes the difference between two good shooters. The improvements that we can focus on : have better control of the emotions to have better lucidity, and manage the flow of thoughts.
For physical preparation I recommend all kinds of exercises which work the postural muscles, like Pilates or body core.
What is your shot routine like?
I have a really basic shot routine: load the pellet, lock the wrist on the table, look at the target, lift the arm, look at the top of my front sight. During the descent I look "nowhere", then I look at the front sight and take the second stage of the trigger when I enter the target. I begin to pull the trigger when I'm in my aiming area, and I aim until the end of the shot.
Which tool or equipment can't you live without?
My pistol ???!!! Seriously, all are important for me…
Pistol: 10m Morini CM200EI. / 25m Pardini SP New. And my Athletics 3D grip!
Ammunition: ELEY Tenex for both disciplines.
Shoes: Corami.
Shooting glasses: Champion (the simplest for me).
What question would you have liked me to ask and what's your answer to it?
What is the secret of top athletes that only they know?
Do you really want to know? Ok … the secret is … work hard, with passion, and never give up!
Who would you recommend is interviewed next?
So many good and interesting shooters… Anna Korakaki, Zorana Arunovic are very interesting, and so are Olena Kostevych, Russian shooters, Indians shooters…
PS: you can see her olympic final here (no embedding allowed).