This year for my birthday I offered myself a training with Daniel Goberville in France, just three hours away from home. He's the father and trainer of Céline Goberville (#2 in the World Ranking and Olympic silver medalist) and has been in charge of training for the French national team.
The session was very interesting and I learned things that should improve my shooting. Just talking with him was a pleasure.
Oh, and I loved Creil's air shooting range…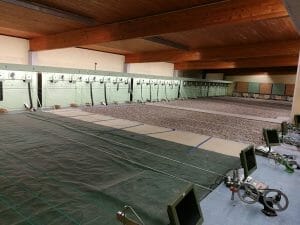 These are the notes I took during the session. I've translated them from French on the fly and tried to order them better. I hope they are also helpful for you.
Focus on the trigger
Focus on the trigger, it is the most important part.
Raise arm with more tonus, controlling the raise and with my wrist locked.
The sights should be aligned when I check them over the target, no corrections (except a bit if the sights are slanted but without breaking the lock). If they are not, start again.
Raise my trigger weight to 580 grams (400 first stage, 180 second stage). An experimented shooter will have a trigger pull force around 560 gr. My trigger was within the norms, but with travelling and conditions changes it could too easily drop under and have me disqualified.
Until I reach a 560/570 points competition level my focus has to be on getting everything inside the 9.
My trigger release hinders my results 9 times out of 10.
Trigger on second stage wall when I enter my aiming zone.
Breath with my belly when raising the gun. Only one breath per shot (I do two breaths)
Block breathing when reaching for the second stage stop.
Shot should be fired between 6 to 8 seconds after reaching this stage.
Two types of trigger to train (out of three, my level is not good enough for staged release). What matters is the principle, not the exact numbers:

Decreasing pressure trigger release: 40gr, 40gr, 40gr, 20gr, 20gr, 10gr, 5gr, 5gr each second.
Steady pressure trigger release: 20gr, 20gr, 20gr, 20gr…

The trigger will not move until it releases, I will feel the pressure in my finger.
Don't look for a 10 when I'm about to shoot, work on an area that allows me to go over the 10 as much as possible (the ball of yarn you see in a SCATT).
Focus on a single thing to train per training session. These are the five core elements and their basic training:

Sights:

Back of target without cocking the trigger. No firing, only work on the sights.

Gripping and lock:

Think only about lock, not about balance. Raise arm and concentrate on the lock and its sensations.

Trigger release:

Start just with the metal plank behind the target, no points reference, concentrate on the release.

Balance:

use a small circle in the wall, no dry firing. Aim under the sticker like if it was your aiming zone. Smaller circle as you progress.

Follow through.

Train six days a week, three at the range. Range is for shooting, do the other exercises at home for 15 to 20 minutes.
You can not compete in training nor train in competition. There's a wall of emotions separating both.

Training = learning (conscious, control)
Competing = execution (subconscious, let go)

Never do a 60 shot match during training. The only results that matter are those in competition.
Season is composed of periods of training and competition.
Start the sessions with focused technical training exercises and finish with coordination. 80% technical, 20% coordination when in training period. 20% technical, 80% coordination when in competition period.
I can finish the training session with a mini competition of 20 shots with some friends at the range.
100 shots in one training session. Example of a trigger session:

20 shots on the back metal.
20 shots on target with the screen off or checking only on paper after each 10 shots.
20 shots with the screen on (no calling of shots, but a bit more emotion and reward). Fight the urge for reward and focus on the trigger.
20 shots with a contract (so many points, x shots within the 9…) Still focusing on trigger release.
20 shots competing with someone (still focus on trigger).

Follow up and evaluation are part of a training, not a training in themselves.
Do not let reward and menace lead you astray. Focus on what you want when you want it.
With experienced shooters he works with three phases of the trigger release: engagement, continuity and final release.
You don't work the aiming zone, it is the result of training balance.
Monthly club competitions are training, not a real competition (we just say we are going to shoot and hand the results afterwards)
Add physical training to develop your body. Balance brain and body.
Design a warm-up routine to do outside of the range, in the changing room. Ask the referees if I can warm up handling my pistol in that area.
Add trigger first stage travel. Right now it is almost like a single stage trigger.
It will take me one year to see the results of changes.
Things I did well during the training: evaluation of shots (where they landed), changing to a more controlled raise of the arm.
Update: This is the training program I got from Daniel after this session. More trainings by Daniel here.