There are a lot of good pistol exercises being shared on social media and websites around the world, so I thought it would be good to have the best in the same page to make it easy to get some inspiration and do some of them.
I will be updating this page as I come across more interesting home training resources for pistol shooters, so check back every once in a while. If you have something to share leave a comment, it will help a lot of people!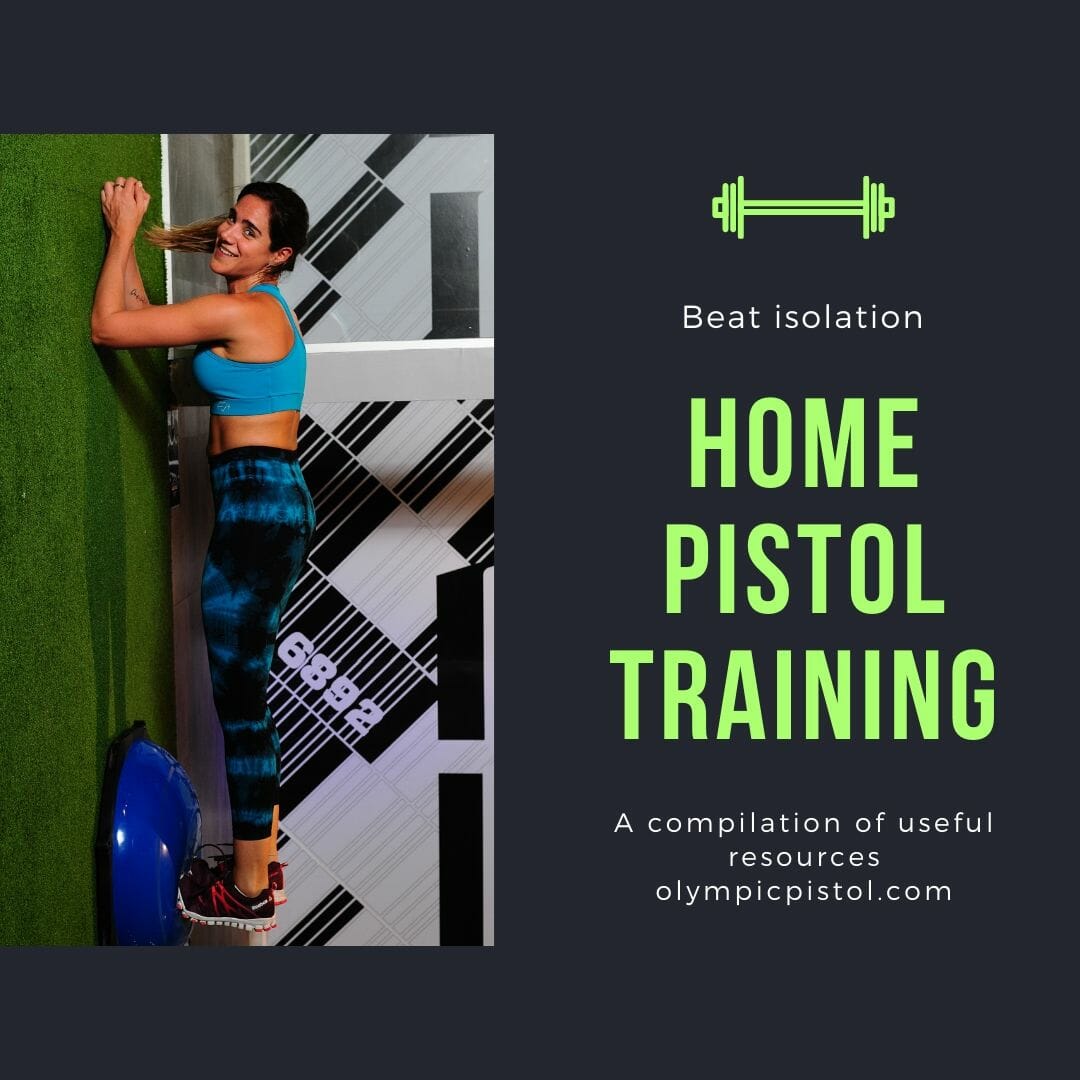 Exercises
Don't forget to warm up your body before training. If you don't have an established routine, try this warm up by the French Shooting Federation, or this one by Dina Aspandiyarova:
If what you find here is not enough and you want a shooting sports coach to work with you, find a coach here. You can also get the trainings I get from my coach here.
Dina Aspandiyarova's home exercises and tips
From a pistol olympian and coach. Thanks to her I've started using the ironing board as my range table and it has greatly improved my comfort 🙂 Lots of exercises and tips even without equipment.
She's also shared a video explaining why it is important to dry fire:
Dina has also shared this super useful animation of body weight exercises:
Follow Dina on Facebook for more shooting tips.
Christina Macdonald's Pilates for Pistol Shooters video course
First full course I've seen for pistol shooters! 🙂
You can also use my pilates inner core training.
Mathilde Lamolle's workouts
Training sessions with a member of the French team to the Olympic games (and the star of this pistol warm up poster). Click on the arrows to the right of the pictures to see the videos and more information. If you don't speak French you should still be able to understand pictures and videos, and for the text use google translate! You can
Mathilde is sharing a lot! You should really follow Mathilde on Instagram to keep up.
https://m.facebook.com/story.php?story_fbid=10157217253942951&id=234453322950&d=null&vh=e
Anjum Moudgil's workouts
And a fun coordination drill for two
Nina Boldi's core workout
Artem Chernousov and Margarita Lomova's training for two
Artem's Instagram. Does Margarita have one?
Pistol Australia's home exercises to keep you fit
USA Shooting pistol strength and conditioning videos
Thanks to Eric Binion for letting me know about these great videos.
Thoracic extension crunches on foam roller
Subscribe to the USA Shooting Youtube channel not to miss any new exercises and check all their training resources (including the explanations of these exercises) here. These videos are all included in this playlist by USA Shooting and also in my playlist of physical training for pistol shooters.
Back and shoulder strengthening with Melvin Iddir
Sven Müller's roller workout
Now, here's a challenge! 🙂
Dry firing
Christian Reitz's rapid fire pistol dry fire
Keith Sanders dry fire training
Zorana Arunovic's dry firing
Alejandra Zavala's stability training
Olga Paranina's coordination and balance training
Can't embed it. Use this link.
Youtube playlists
My playlists for physical training:
For pistol training videos:
For mental training:
Targets
Wikimedia's downloadable ISSF pistol targets
You can find all target images here, but I've made a zip file with the ISSF pistol targets to ease everybody's life.
The target calculator will give you the right height for scaled distances in order to keep the right angle.
Amaury Mesnil's scaled targets
Targets for pistol and rifle scaled to train at home from 50cm to 10m. Google Drive folder and original Facebook post.
Mathilde's target pictures for dry firing
Is there anything missing or that you would like to share? Leave a comment!
Rink's scaled targets
For ISSF pistol disciplines at 2, 2.5 and 3m

What other resources would you recommend?