Did you ever want to have a set of exercises to do at training that would add variation, challenge and motivation? The moment I saw the TrainingsBuddy I immediately thought it could be the answer to this but had to wait a bit for the pistol version to come out. Thanks to authors Bernhard Pickl and Lisa Haensch, I've received an air pistol TrainingsBuddy to review and train with, and it is what I expected 🙂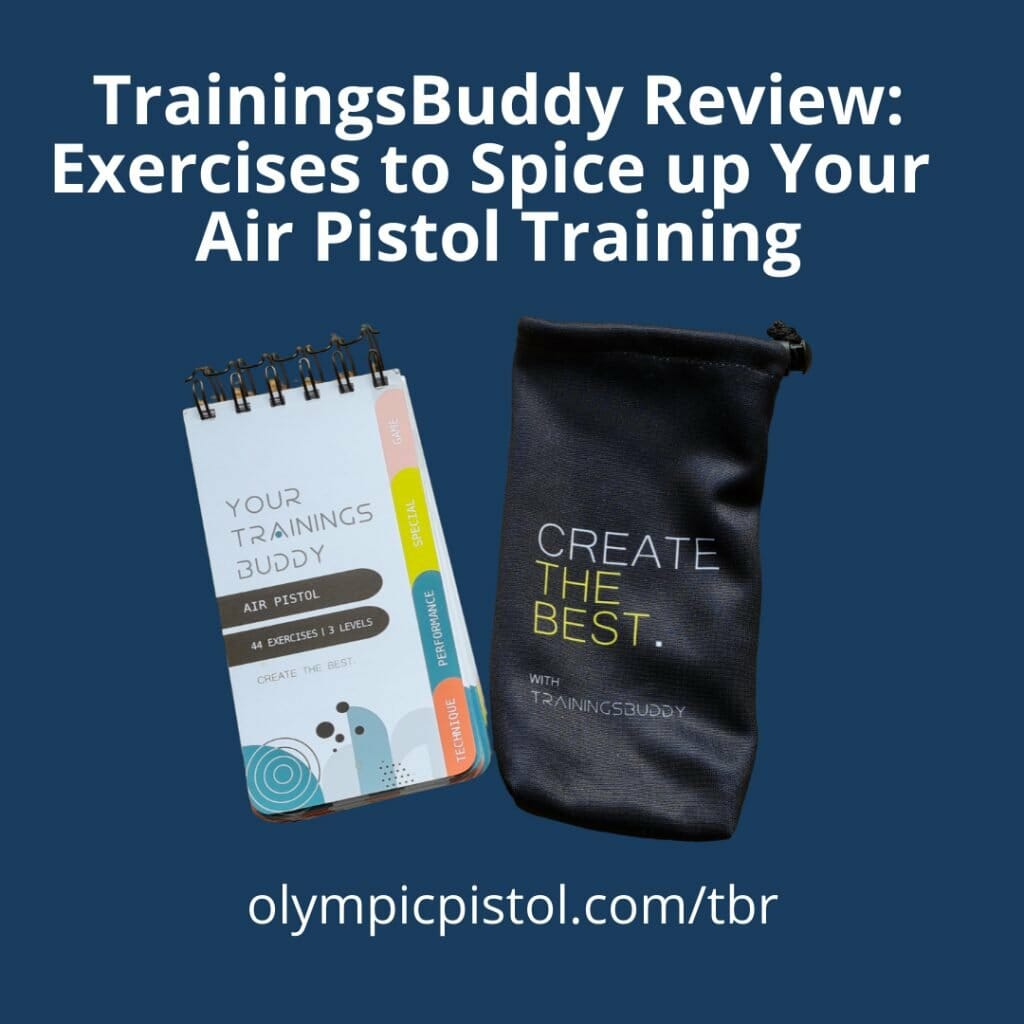 The authors
Both Lisa and Bernhard are rifle shooters. Lisa has been a coach for the Austrian shooting federation and competed in the Bundesliga, while Bernhard has been World and European champion as member of the Austrian national team.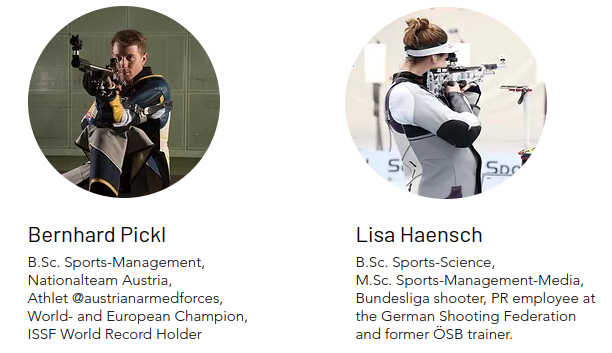 Presentation and structure
The TrainingsBuddy comes as a spiral notebook together with a pouch and some stickers. The pouch is useful to preserve it from damage in the range bag.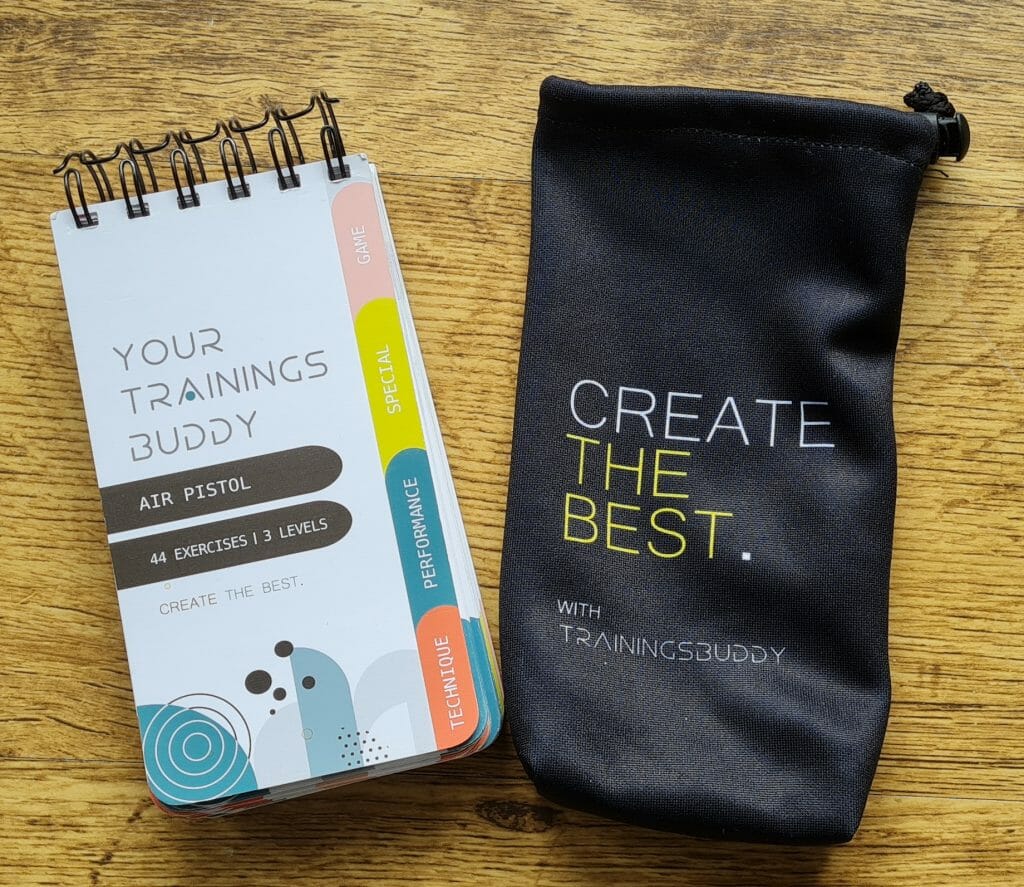 The TrainingsBuddy contains 44 exercises divided in four sections: Game, Special, Performance, and Technique. There's also a General section that explain how to use it and contain some information like a welcome text, in which Lisa and Bernhard start with a recommendation for training that I wholeheartedly support: start every practice session with fun and joy for shooting. Also when they say to be strict and honest to yourself.
They use icons at the start of each exercise to give you instructions on top of some written text and a goal for the exercise.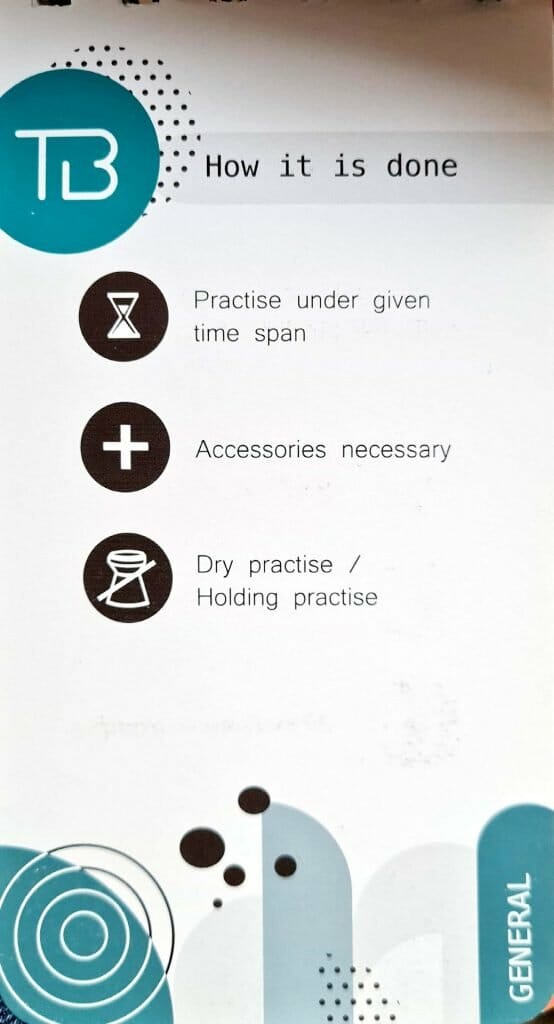 When they say Create the best they want to support shooters around the world to create their best way of shooting and to get to the top, and to motivate shooters to create their own best by themselves and to reach their goals.
Exercises
All exercises in the four sections can be done with goals according to the shooter's average for 60 shots:
SL 1 => 530 points
SL 2 => 550 points
SL 3 => 570 points
Each section is geared towards a specific training goal so that you can choose which one or ones you want to do. Most of the exercises are for individual training, but there are also some for group training. Each page contains the explanation on one side and then the exercise goal per shooting level (SL) on the other side.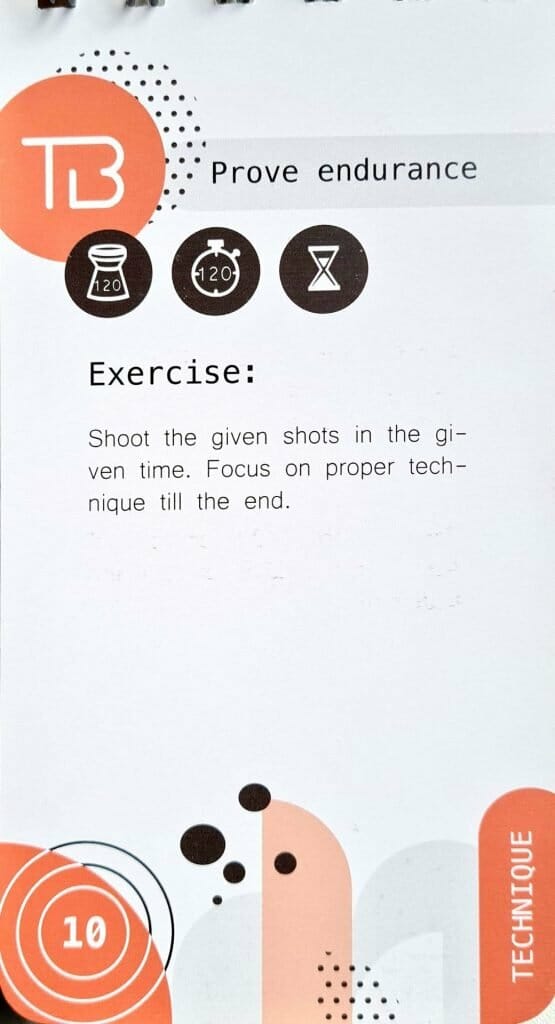 Price
The TrainingsBuddy currently retails at less than a single session with a coach: €49 and US$56. You can buy it directly from them or from online shooting shops around the world in order not to pay unnecessary import duties.
Languages
The TrainingsBuddy is so far available in German, English, and French (although the French version is only available for air rifle).
Improvements
As always, these are my comments to try to help in the improvement of the product, not a critic of the creators or their creation. I've sent them a lot more detailed comments than what you see below 🙂
Must haves
Give instructions on how to use the TrainingsBuddy to plan training sessions and schedule training. Having some instructions of the kind of exercises to do depending on the moment of the season, closeness to competitions, etc.
Explain the general goal of each section with exercises. It is not clear currently what is special about the Special section, although the rest can be easily inferred. An explanation of when to use each and how to mingle them in sessions where you want to do more than one would be very welcome, although I think its place should be in the website.
Language editing and typo correction. It is usable as it is, but can be confusing. I understand that this tool is written in European continental English (spoken by European non native EN speakers like me), so it is flavored by our languages, but there are phrases that are difficult to understand.
Sometimes it is not clear when you should stop.
A symbol indicating when we should shoot on the back plate, on target, without seing results…
Revise targets of Exercise 15. At least for the SL 2 they are way tougher than in previous exercises.
List of group exercises to make it easier to find them.
Nice haves
Having the pages of each exercise facing each other instead of being part of the same page. This way you can just flip the whole booklet instead of flipping pages and ending up in a different exercise.
Page numbers. They use exercise numbers instead of page numbers, so you have two pages with the same number. Unless you want to share a comment about an specific page it is ok.
Consistent capitalization and editing. Goals should always be in the same place, before the explanation of the exercise.
The Small Dictionary needs language work. It is hard to follow the translation from German. For example the first heading "SUBJECT / DEDUCTION:" makes no sense when talking about the trigger. It looks like the formula of how to write the headings. I think that a better name for the section would be Shooting Terms, Shooting Glossary or just Shooting Dictionary, without the Small.
Some reasoning about exercises that break from the norm, like one where they ask to break wrist lock.
Shapes drawn in exercises where they are described so that it is easier to visualize the exercise.
Review
We have to be grateful for having shooters and coaches like Lisa and Bernhard creating resources for shooters like the TrainingsBuddy. They have come up with a great tool that will help a lot of shooters improve and enjoy their training more. Using the TrainingsBuddy has contributed to the enjoyment of my training sessions, specially when not motivated to come up with my own training plan. This training tools is a unique opportunity to peek into what coaches do in their training sessions depending on goals and distance to competitions. I recommend using it without any doubt.