Paul Hughes is a brilliant mental coach that I got to meet thanks to his posts on Instagram. Luckily, I got to be part of the first cohort of his course and it was totally worth it 🙂 My mental game has improved a lot and the tools he provided (review of the course coming soon) are proving helpful in my profesional and personal life. He's been the lead psychologist of the Olympic Great Britain shooting squad among other positions and now he's made himself available to the world 🙂 (contact details at the end of the interview). As a sports psychologist, he doesn't work in isolation with athletes, rather directly on the range alongside shooters and coaches. His focus is on helping athletes to minimise psychological error and enable their technical skill to be delivered consistently.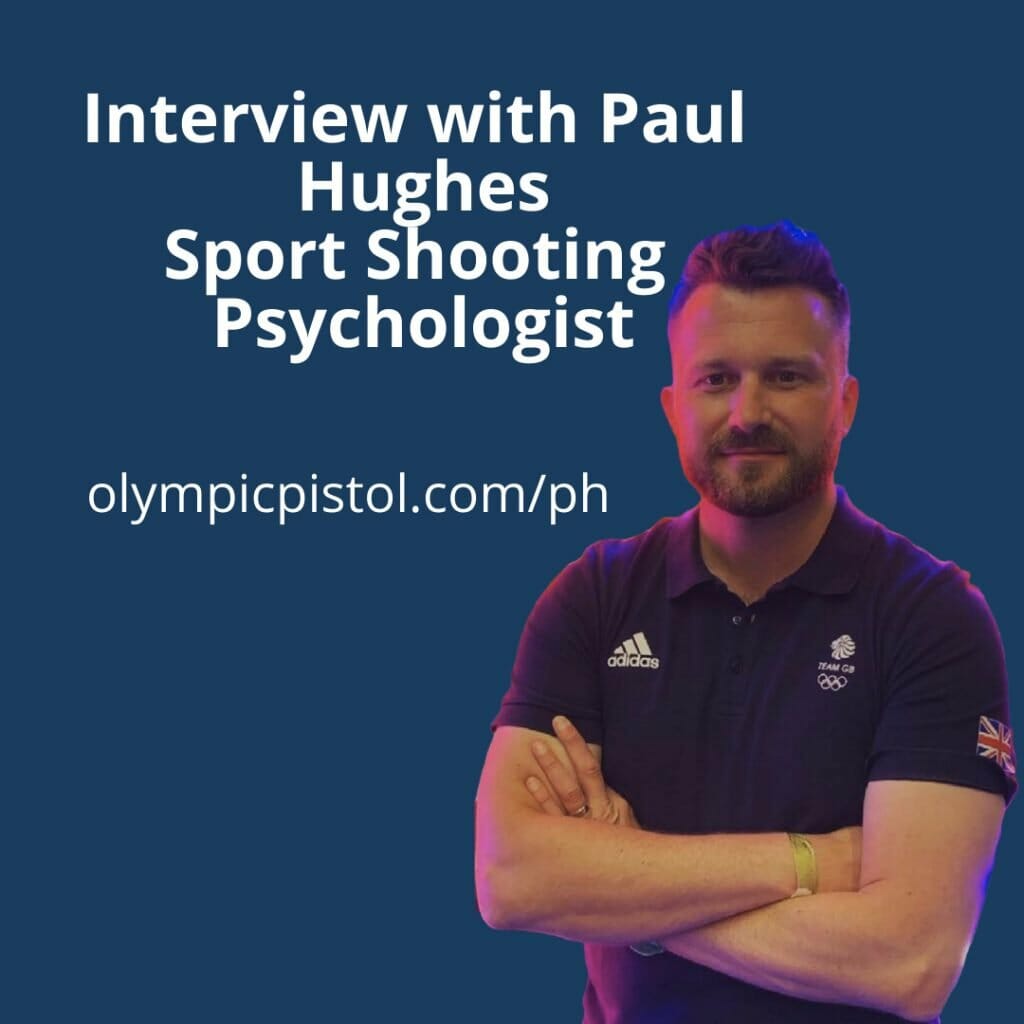 How and when did you get into shooting?
I always had an interest in what set apart the very best individuals beyond physical traits but
I didn't realise it was something I could make a career out of. I studied psychology at A-level
in the 90's and began my undergraduate degree in 1999 and was introduced to sport
psychology within my degree. There wasn't much of a defined career path in the early
2000's until I enrolled on one of the earliest accredited Sport Psychology Masters degrees in
2006 (we were the first cohort) and this is where I realised that this was my future. Post-
masters I undertook a period of three years of supervised experience before receiving my
accreditation. It's a long process! I originally wanted to work in professional sports such as
football or rugby but after getting involved in some talent ID work for Paralympics GB in
2009/10 ahead of London, I had my heart set on working in Olympic/Paralympic sport and
this then became my path. My first shooting client was in 2007, an air pistol shooter. In 2010
I began supporting the Welsh Full bore team and in 2014 became the lead psychologist for
British Shooting. So, I fell into shooting by chance, but upon realising the psychological
demands of the sport I was hooked. I gradually learnt that my field could have a huge impact
upon performance as part of an athlete-coach-psych triad and the wider multi-disciplinary
team.
What made you decide to dive into pistol coaching?
I work across all shooting disciplines. I'm interested in shooting specifically as a sport due to the degree of psychological skill involved and the difference that mental training can have on performance.
At what level are you coaching and how has your career progression been?
I've worked in two of Great Britain's four Sport's Institutes (England and Wales) and collaborated with colleagues within the Scottish Institute through my GB work. I've provided psychological support at the Rio and Tokyo Olympic Games, as well as at multiple WCH, World Cups, European games and European Championships. I am a HCPC registered and Chartered Psychologist which is the highest standard of qualification for practitioners in my field in the UK. I stepped away from my full-time GB role in December 2021 and now work freelance to be able to spend more time with my young children.
What are you most proud of in your coaching career?
Many things and it goes beyond contributing to medal success. As my career has developed I've been more concerned with the broader development of athletes and the systems they operate in than with whether or not we win medals. If the system is good, and the athlete has an appropriated balance of challenge and support, then the medals will come. I've sat on the coaches bench in an Olympic final and commiserated with athletes when they haven't achieved the outcomes they wanted. I'm as proud of helping them to move on from difficult moments as I am when they achieve what they intended.
What is the most important thing a pistol coach can teach his athletes?
Perspective. There's a reason why the athlete started and not to lose sight of this. To try and retain the love of the sport but remembering that it is just a sport. And to work on mindset of course!
What is your coaching philosophy and style like?
Collaborative and based on strong, supportive and challenging relationships. Working very closely with coach and athlete to ensure consistent communication and that we minimise things getting lost in translation. I use a process of self-exploration with the athletes I work with, asking lots of questions and try and draw out their own expertise in what they do (even if they don't consider themselves experts yet). I'd rather spend six months helping an athlete to be more aware of how they perform than provide a quick answer that actually gets in the way of long term development.
How do you train your shooters and how often? What does a typical training day look like?
Typical day for me is on range. Sessions of no more the 2.5 hours mixed with shooting, hypothesis testing and debriefing. This will generally be alongside the coach and ensuring that psychology and technical work are happening together (so we would combine psych and technical exercises as the norm). I will then use further follow sessions away from range to discuss further reflections and further planning.
What do shooters spend a lot of effort on that is not so important?
Hoping that things will be ok and doing the same things hoping for a different outcome. They may spend a lot of effort hoping, rather than dedicating time to improve mental processes in a structured and organised manner.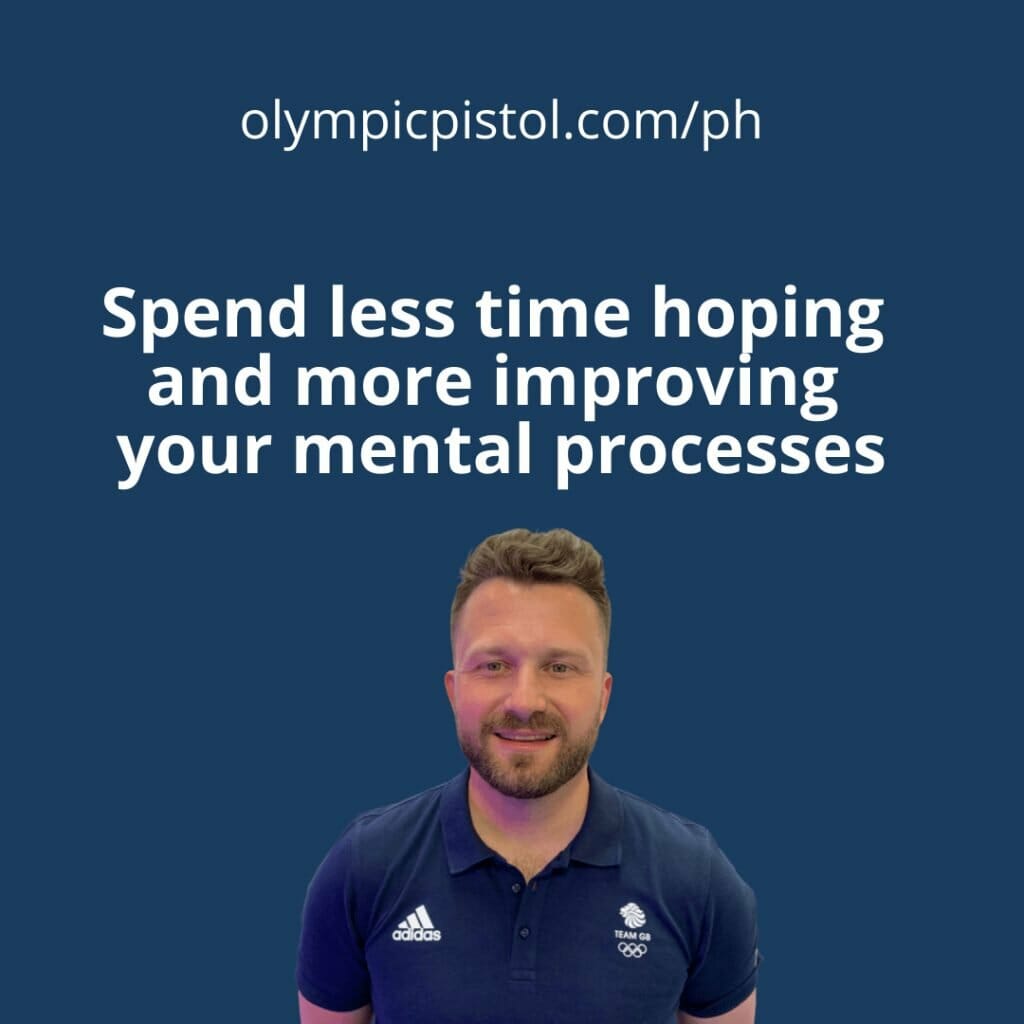 How do you keep shooters motivated in training and competition?
We structure training so that it is building up to a moment in time so we taper volume but also use challenge and support as a variable to adapt over the course of a training block. We use various demands and consequences to test psychological and technical skills to ensure that athletes are feeling a sense of readiness moving into a competition. I could write a thesis on demands and consequences and how to use them (I am creating a module on this in my online course!) but essentially increasing the demands of a task simply make a task harder. Pressure is simulated when consequences are added and these consequences tend to broadly fall into: the opportunity to win, the risk of losing something, and social judgement. If you add consequences and demands in a structured way you expose shooters to gradual pressure and give them the opportunity to test their psychological strategies and more away from competition. This aids preparedness and builds confidence, but there are significant complexities to this way of training that I'll share within the course.
What do you make your shooters do before a match or training to get into the appropriate mind space?
Nothing complex as the preparation is done already. However, if an athlete is particularly heightened in stress I will give them space to share their concerns (whether rational or irrational!) non-judgmentally and then gradually move them to a more logical place to focus upon their resources (their strengths, preparation etc), and what the key things are that they need to focus on. I'll want them to tell me this so I'm clear that they are clear on the task at hand. I'll also reinforce that stress is a part of performance, it just means they are getting ready to perform.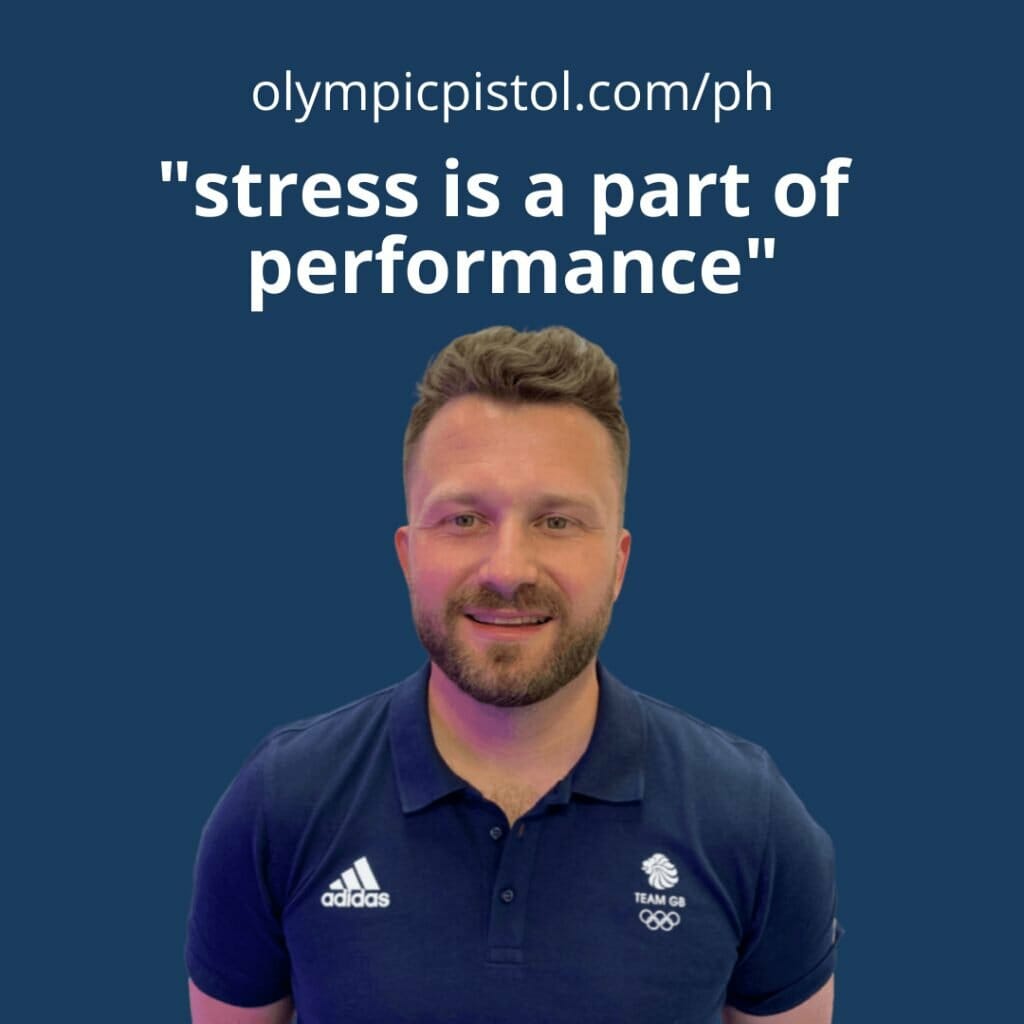 How do you manage shooter nervousness through a competition? Can you give an example of a technique to use when things are not going well?
See the previous answer, the principle is the same. The key is to allow people to express what's going on for them and not try to convince them everything is fine. It is possible to normalise these feelings however.
What aspect of the shooting technique brings the biggest improvement? How would you recommend people to train it?
From a psychological perspective it's two broad things. Having a mental model to manage your response to thoughts and secondly, having a psychological routine that is task specific and enables the delivery of technical skill.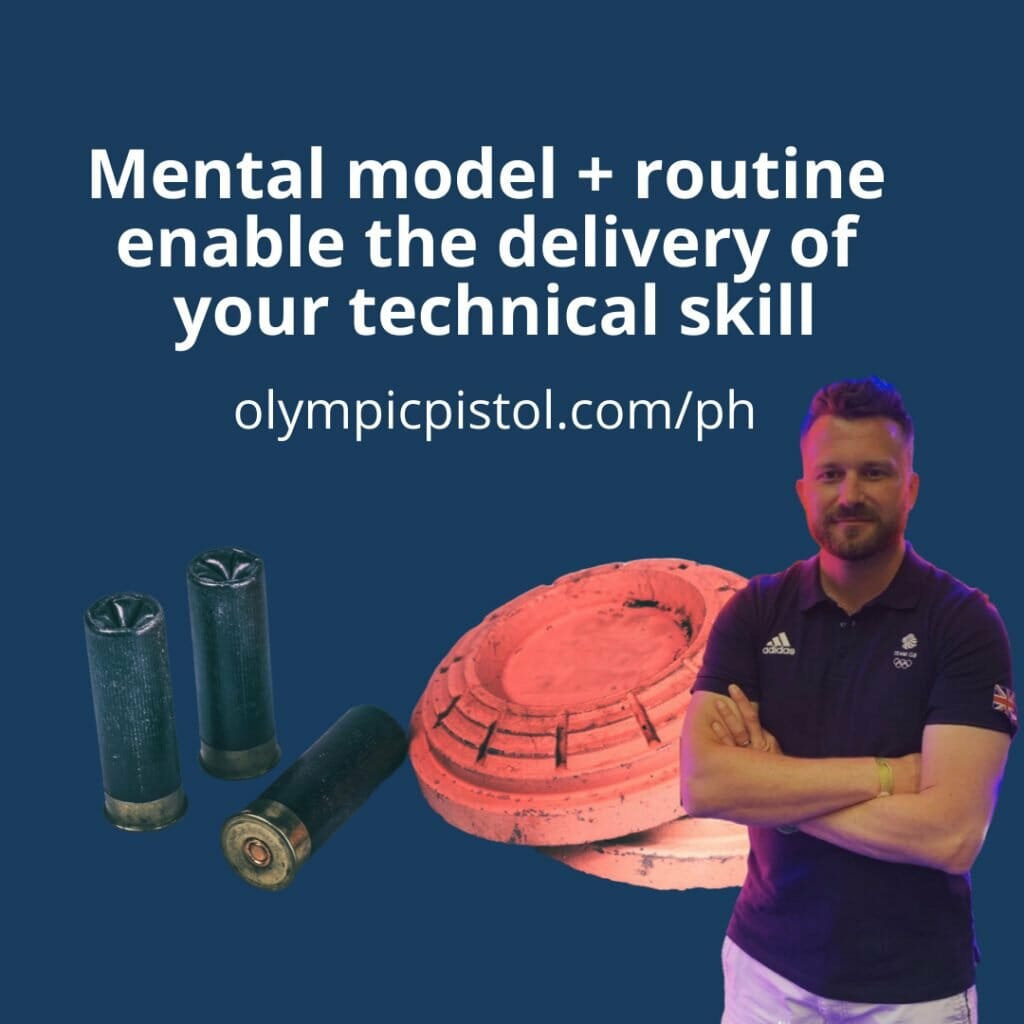 What would you recommend pistol shooters to focus on improving? Can you share one exercise or routine for this? How do you think they should go about it?
Practice mindfulness, there are many apps available to do this, Headspace is particularly good. The reason for practicing this is obviously all the benefits that go with mindfulness but from a shooting perspective the ability to come back to the present and notice the changing of attention is absolutely vital.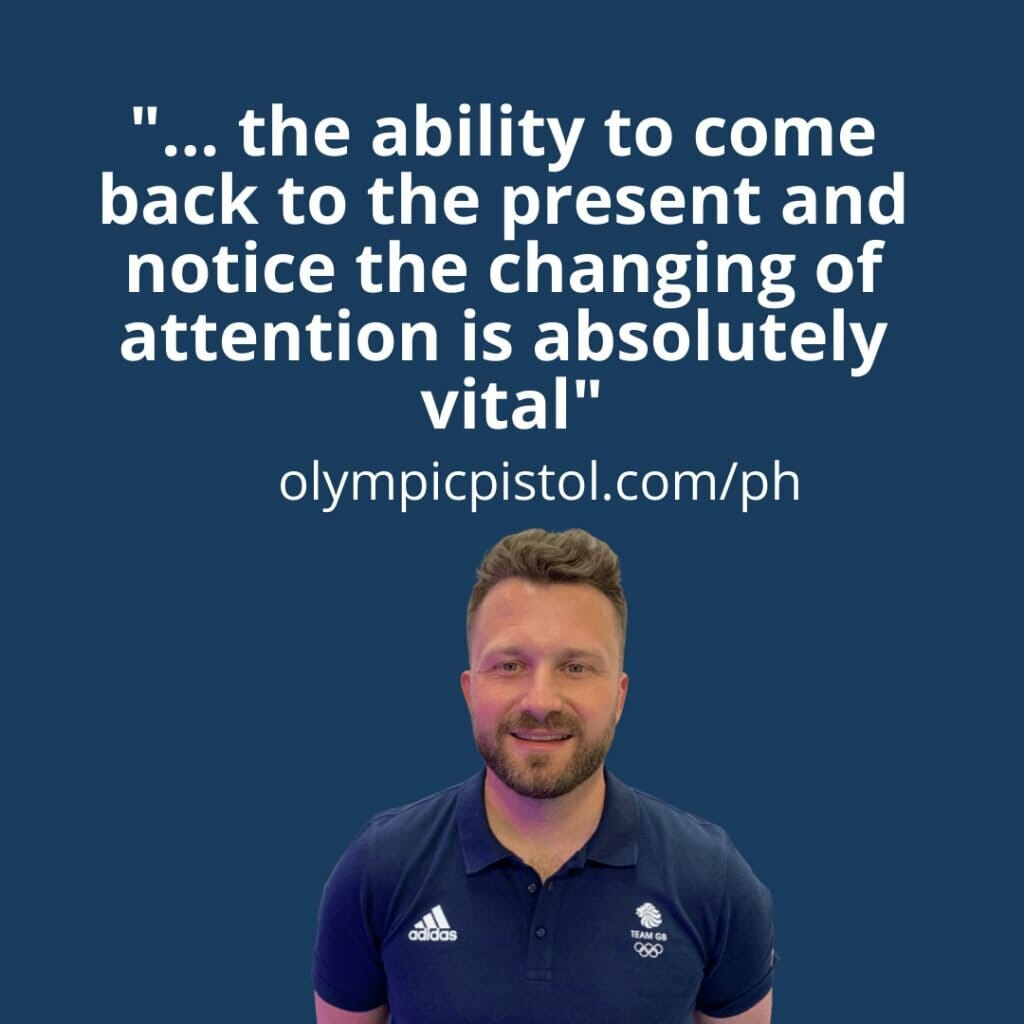 Can you share some examples of tactics to use during a match and what would trigger them?
I have one tactic, and that is to stick to the plan/approach that has been discussed within the preparation. We will have done lots of what-if planning and as a closed skill sport there are less variables to be concerned about than a team sport for example. The main tactic is to not deviate from the plan and if someone is beginning to problem solve (solutioneering) that is a great queue that they need to go back to task/plan.
Which tool or equipment can't you live without as a coach?
My ears.