To start my series of pistol reviews I thought that beginning with my current pistols would be the best, and the first one has to be (spoiler alert!) my latest love and the one I spend more time with: the Feinwerkbau P8X 10m air pistol.
As this is my first review I would really appreciate it if you could tell me in the comments of the things you would like to know about that I've not included so that I can improve it.
PS: sorry if I compare it a lot to the Steyr Evo 10, but it is the other gun I've owned and really know well. I hope to write my review of the Evo soon.
General
Before diving into details, I have to say that the P8X feels great in the hand. The balance, hold of the grip, sights and trigger make it really nice to shoot. It is a high end air pistol and, as such, it shares a lot of great stuff with other great pistols made by manufacturers like Steyr, Walther, Pardini and Morini. But each gun has a very distinct personality and the word that defines the Feinwerkbau P8X is smooth.
Trigger
The trigger of the P8X is a mechanical marvel and what made me buy it. Even hard-core electronic trigger shooters love it. When you pull it for the first times you just cannot believe how smooth it is. That's what happened to me: Patrice Lhoir let me shoot his Feinwerkbau P8X at the range and I was sold after the first shot. The day I first shot the P8X I also tested Walther's LP300 and LP400, and I was shooting my Steyr Evo 10 during training
The pistol comes with over 400 grams preloaded on the first stage, but even changing that (I currently have 380 and 180 grams) does not change the pleasure of pressing it until the shot.
The Evo 10 trigger feels coarse compared to the P8X, which is much more refined and subtle.The only comparable trigger I've found so far is in the Pardini K12.
The trigger shoe is comfortable and has a lot of possible adjustments. It fitted my finger and hand size from the start without any adjustments.
A detail I really like about the adjustments of the P8X trigger is that the screws are identified and make it much easier to remember which one to turn. This is one of the improvements that João Costa recommended as a tester (obrigado João!).
To change between dry fire and live fire modes you have to push the button in the frame right on top of the trigger (red is danger!). If the pistol is not cocked you will not be able to push it, which makes it very easy to see if the pistol is cocked without firing.
Warnings
Accidental discharge
If the dry fire/live fire lever is pushed to live fire (red dot) and you think it went all the way in but the pistol dry fires, IT WILL DISCHARGE WHEN PUSHED ALL THE WAY. I've had this happen only once in I don't know how many thousands of shots, but it was scary. I've not been able to reproduce it.
Make sure you push the dry fire lever all the way and remember to keep the pistol pointed in a safe direction when checking any malfunction.
I contacted Feinwerkbau and they said to make sure it is pushed all the way through… duh!
Transport lock
The only reference in the manual to the transport lock is to tell us to remove it before firing (the pistol won't cock with it on). What they forget to say is that you ALWAYS have to put it back in before taking your pistol somewhere else. If you do not do so the absorber may turn and get blocked.
Luckily, fixing this issue is simple.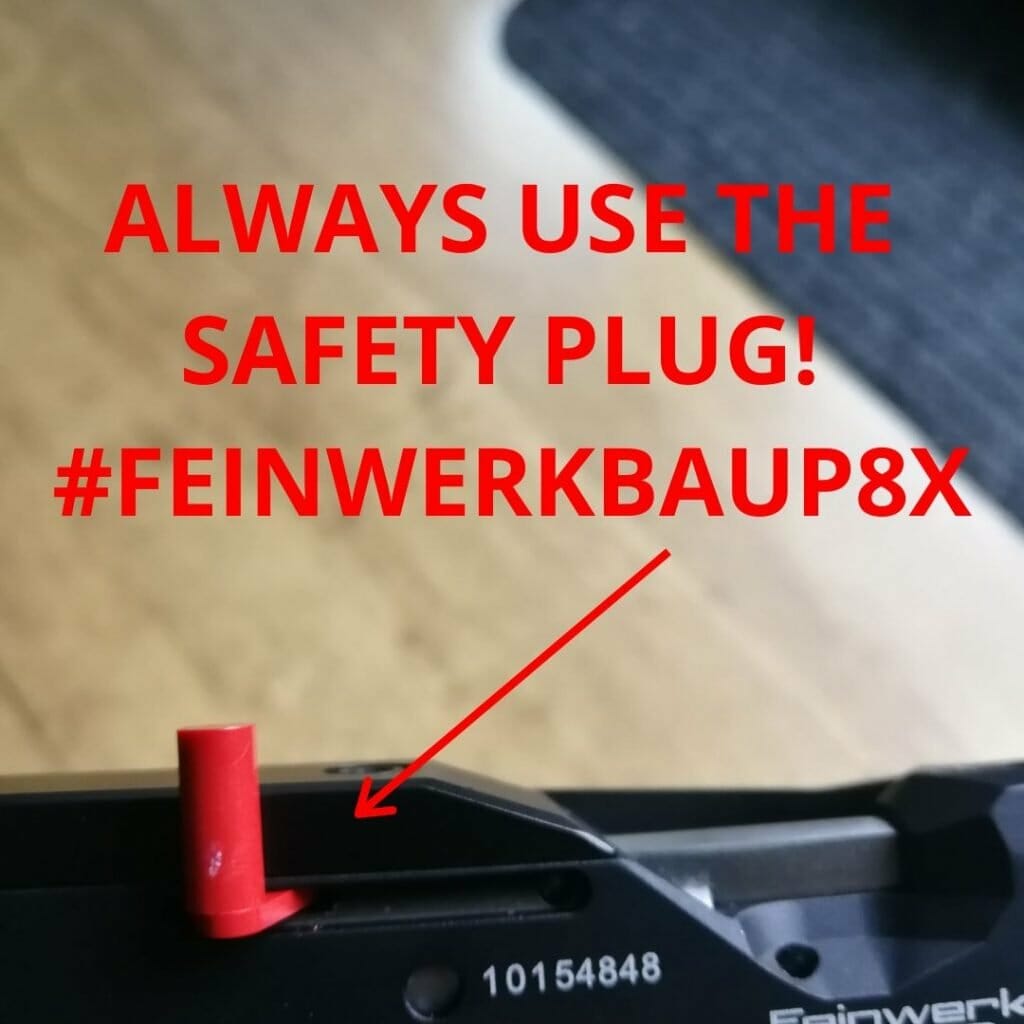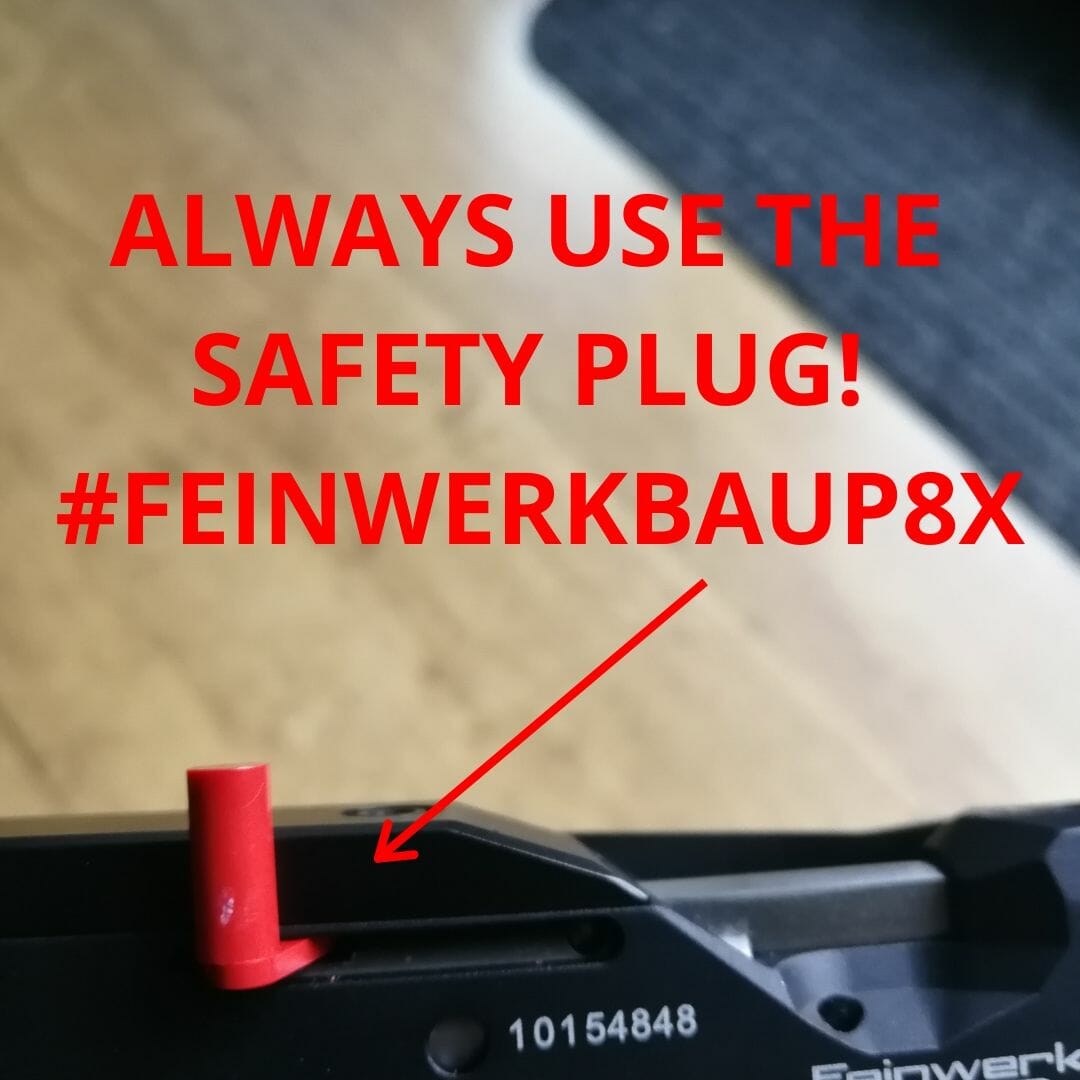 In case you loose it these are the dimensions of the safety plug so that you can make or print your own: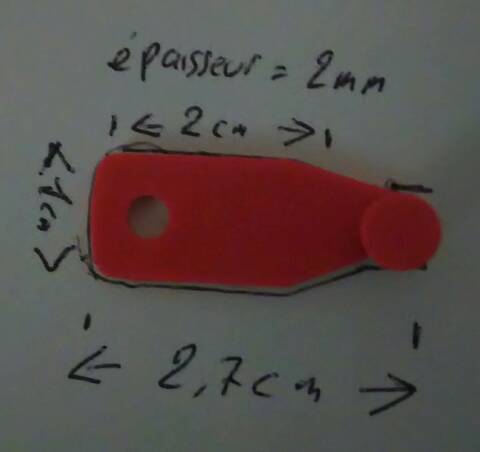 Sights
Sight picture is crisp, noticeably better than that of the Steyr Evo 10.
A surprising thing I've learned when I started shooting with the P8X is that having a deeper rear sight notch makes the front sight sharper. I have asked other shooters to try it and they shared this insight.
You can adapt the width and height of the rear sight notch, but I have not done it: I'm happy as it is.
The standard front sight is 4.2mm wide. You can change it from 3.6 to 5.1mm, and there are also elevated front sights. I'm happy with the standard sights, so I've not changed anything (I did experiment a bit with the Evo 10 sights but also kept the standard one). The people of Feinwerkbau were very forward about making an effort to accommodate the front sight I needed after I got some shots in.
You can move the front sight forwards and backwards for about 3 cm.
If you need to change the sight line because you cant the pistol you have approx. 15º to incline the rear and front sights.
Grip, balance & feel
The grip is great from the get go. I still have not touched it (I have other more important issues with my shooting to solve first). The engineers and shooters like Joao Costa that participated in creating it have made a great job. The grip fits really well, although the palm bump feels a bit big and forward (but you get used to it quickly).
You don't have to take the grip out of the pistol to make adjustments to the inner screws, as it has pre drilled holes in the grip to reach them. You don't feel the holes when you are shooting.
This grip is really hard to duplicate, not only because of the angles and predrilled holes, but also due to the bushing that holds the screw in place to fix the grip to the gun and also to alter its inclination.

In fact, the memory of the height of the pistol on the grip is controlled by that bushing. If you ever feel that the barrel sits too high it is probably due to having turned the screw in the grip with the grip removed. To reset it you just have to remove the grip and unscrew the screw for a few turns. I have not had to change this (I did have to reset it when I was playing with the grip to try to duplicate it), but I would be wary of changing it because I can turn it on empty while putting the grip back on the gun.
Balance is great (isn't it always the case in all this kind of pistols?). With the work of the absorber nothing gets disturbed with the shot. In fact, the whole shot is super smooth. You don't feel the hammer against anvil of the Walther LP300 and LP400 (which does not unbalance them, it was just unpleasurable for me).
This is a light pistol (approx. 0.95kg), at least much lighter than my prior Steyr Evo 10 and less nose heavy. The first day you shoot with it the pistol just seems to be stiller than ever. Unfortunately the effect goes away when you get used to this weight, but noticing this effect I've introduced some trainings where I use weights wrapped on my forearm while shooting to gain arm stability.
Weights
If you want to change the balance of your pistol you can use the weights included with it. Here's how to insert the barrel weights of the Feinwerkbau P8X:
Pellet loading
The Feinwerkbau P8X uses a tray loading system. It works well most of the time, but every so often I will drop a pellet poorly and it will end up loaded sideways. This may be an issue with my fingers more than anything, but I would like to know if any of you have experienced the same. Solving it is easy with the safety flat, and you can really feel the difference when pushing the lever. Sometimes you can even feel that it is happening when dropping the pellet.
Case, extras & tools
The case is big (49.5 cm x 30 cm x 11 cm) and fits everything comfortably, but it is too bulky if you are planning to put it in a backpack like I do. It comes with an embedded lock,which is quite comfortable. If it breaks or you want to add locks you have two deep holes that you can use.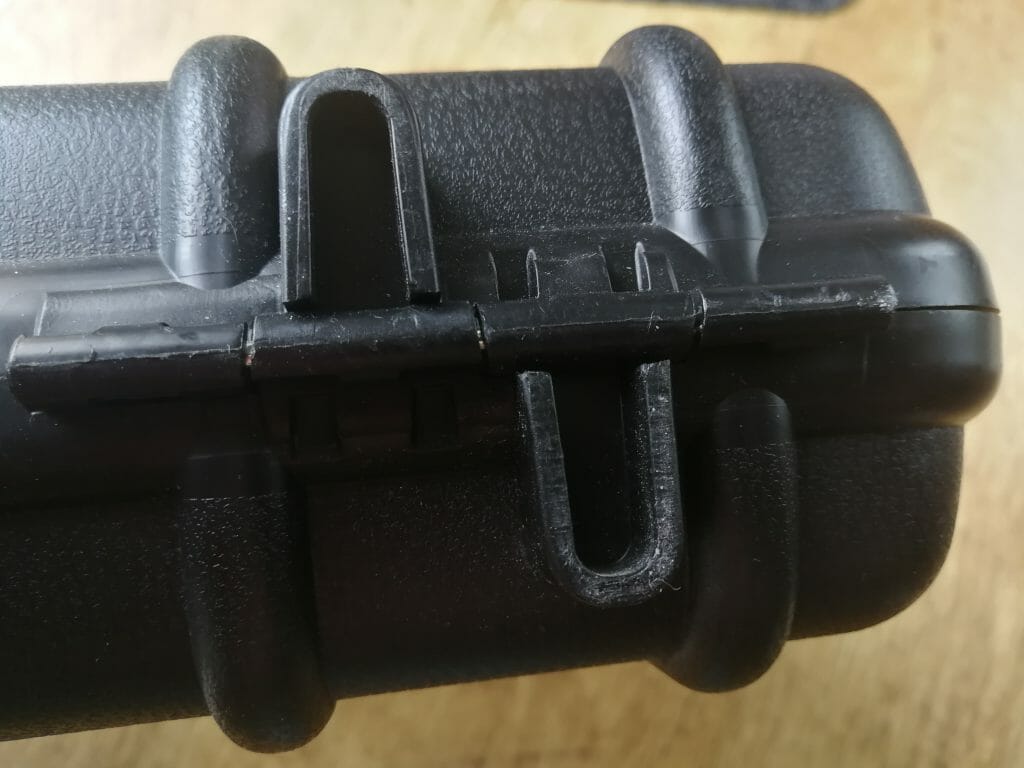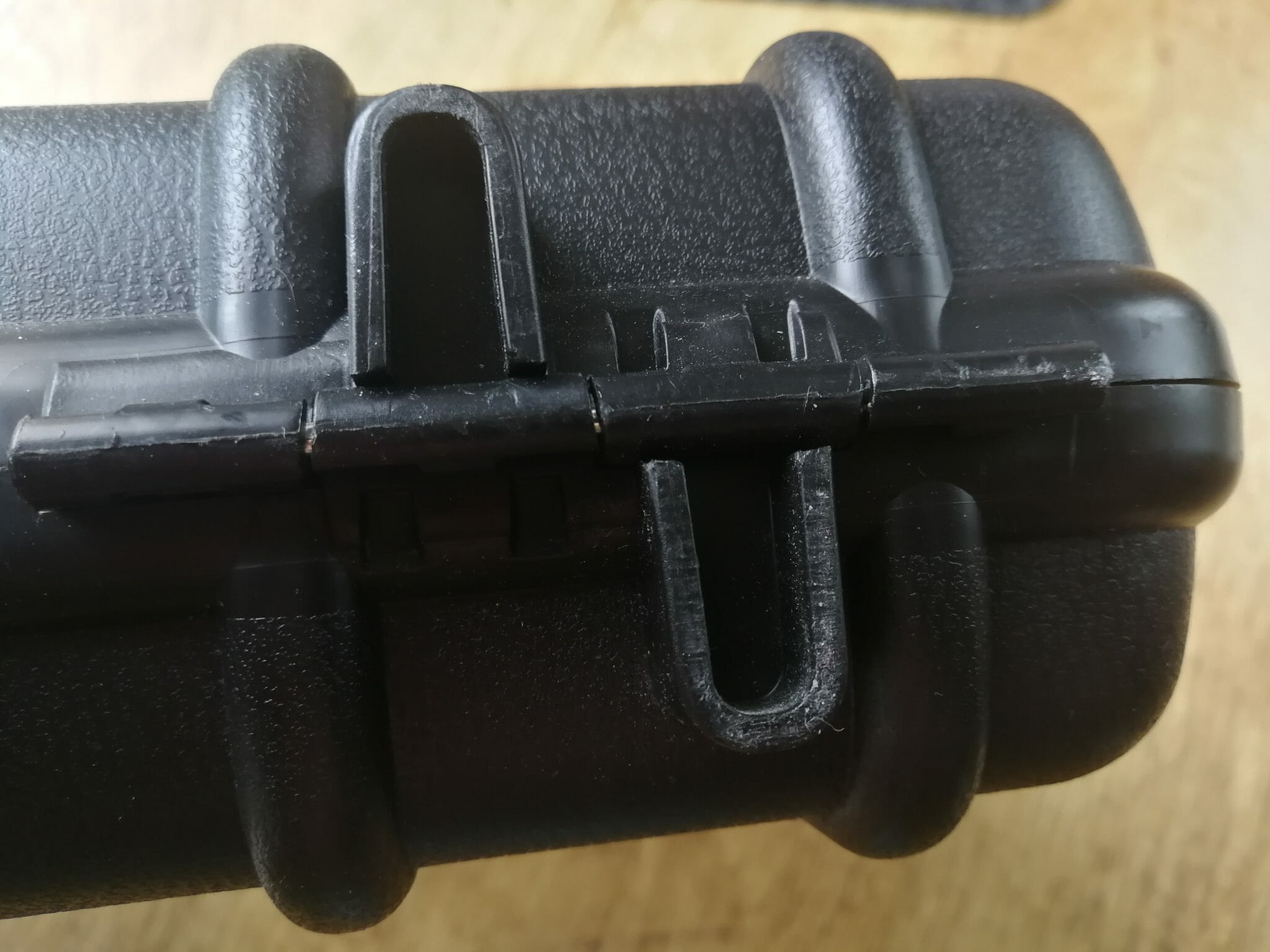 I've ended up buying a smaller Fritzmann case to carry it around inside my backpack, which has the added convenience that I don't have to remove the SCATT sensor if I'm going to use it in the next training session.
You can get an idea of the size difference below, although the pic is not too good: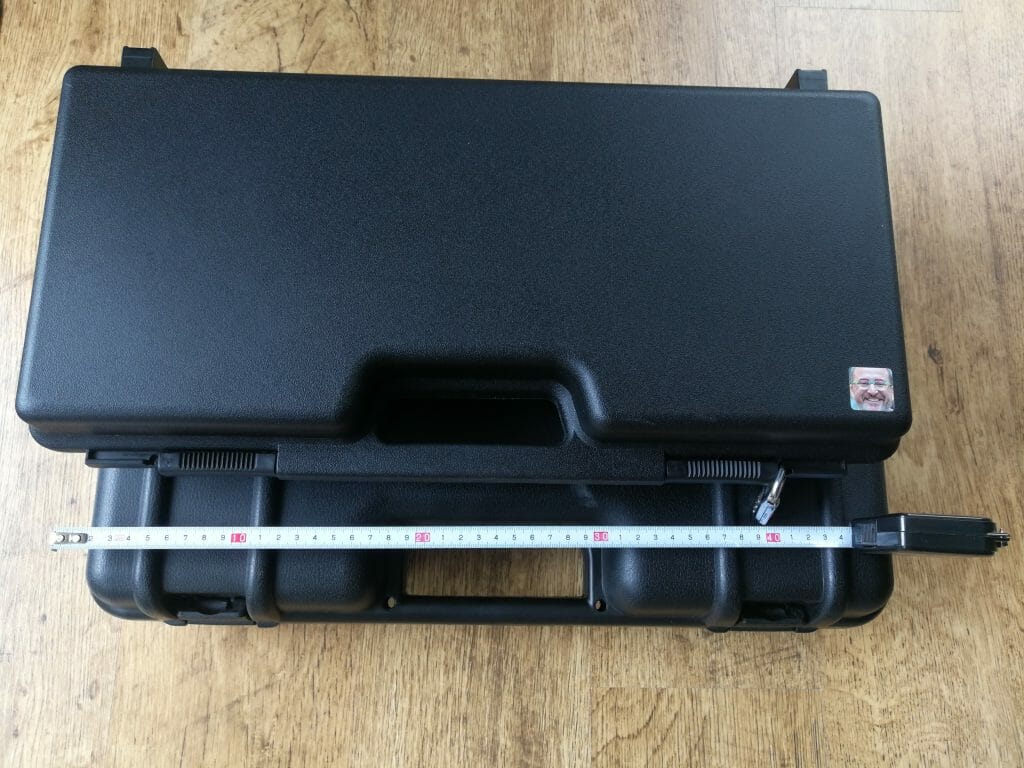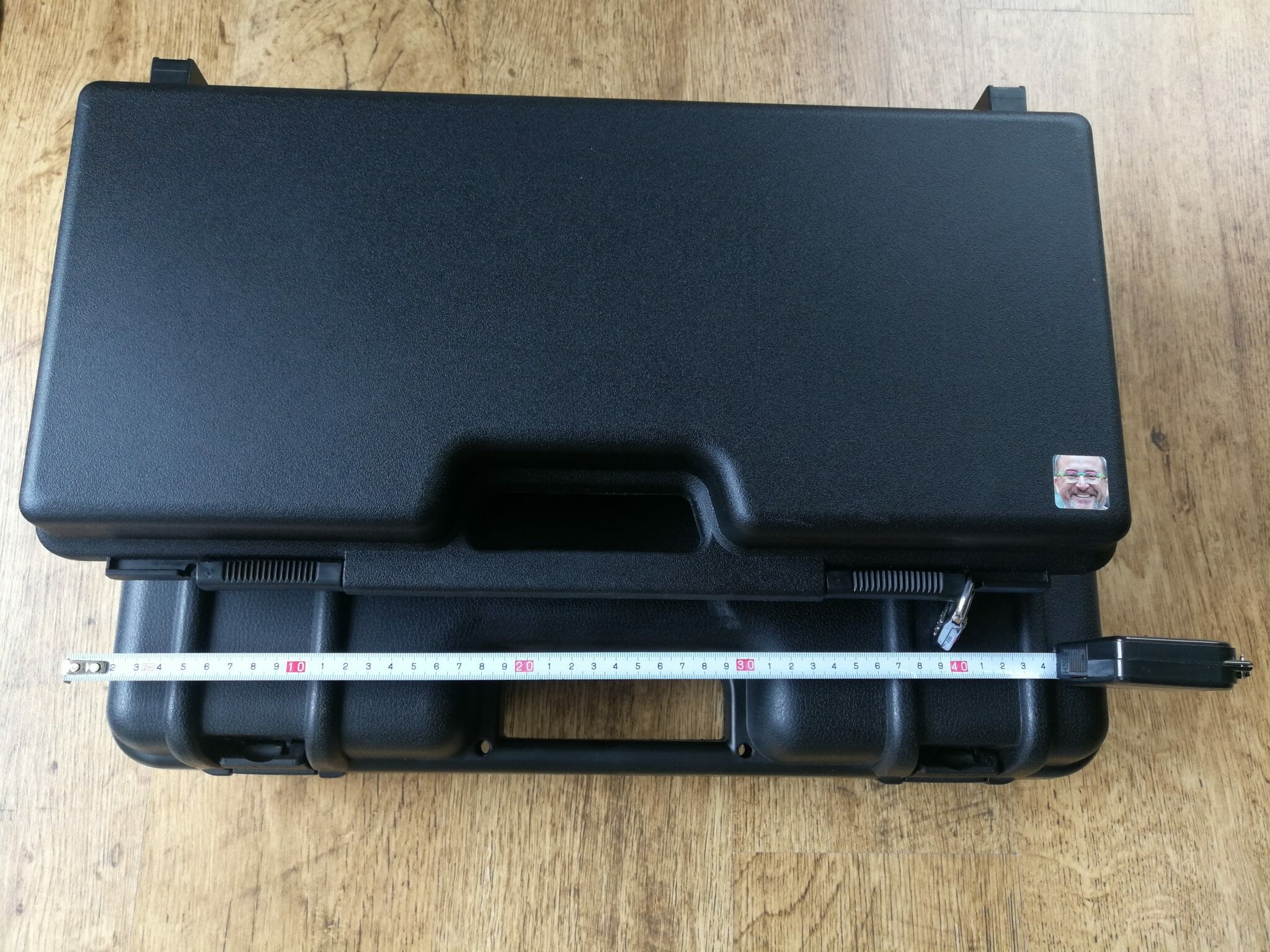 I don't see the advantage of such a big case unless you are going to fit your glasses inside and other equipment. I carry everything in the different compartments of my backpack.
If you go to the range in your car and prefer to just carry the case it is a great match. Look well at the opening latches to understand how they work, they are just too hard to open on brute force alone 🙂
Cylinders
The pistol comes with two standard Feinwerkbau cylinders and an adaptor that you can use and swap with older Fein air pistols (the thread has not changed). They come with two plastic protectors so that the threads are protected during storage and transport.
The air pressure gauge in the cylinder is a standard analog indicator that works great and requires no batteries.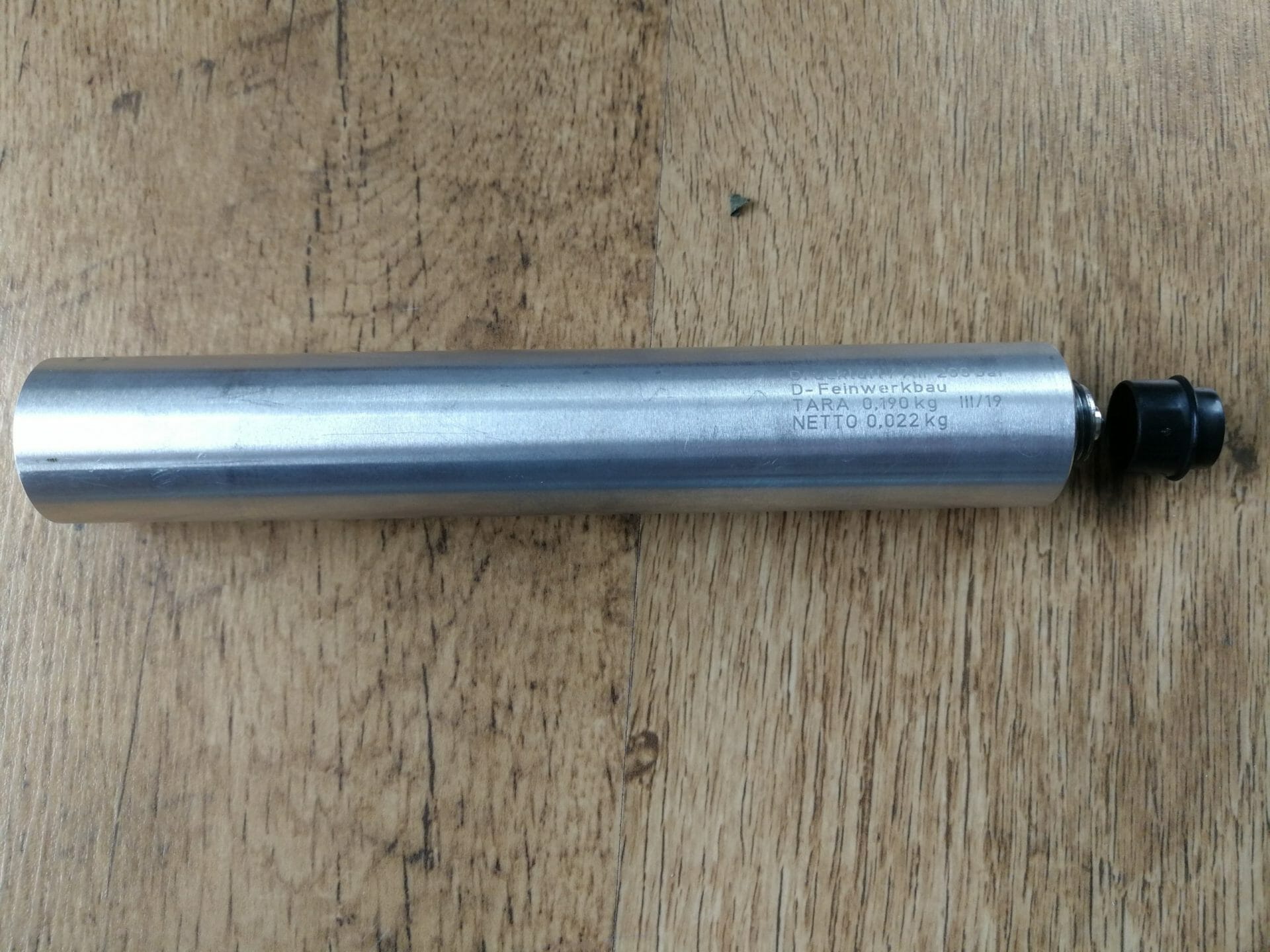 You have to get used to inserting the cylinders. The first times I tried they refused to engage, but as soon as you get used to align them better when attaching them to the pistol they go in really easy.
Beyond what's said in the tech specs, I regularly shoot over a 100 pellets with about 150 bars.
Tools and weights
The pistol comes with all the tools you need: allen hex keys and screwdriver. The toolbox is too bulky (I prefer the tight transparent case that came with the Steyr).
The Feinwerkbau P8X pistol comes with 4 weights of 15 grams to add to the barrel cover. I have not tried them.
Looks
I'm not the right person to talk about this. I think that all competition guns are just as ugly (I love the mechanics, but not the outer looks, although this might be changing). If you care, the pictures of the pistol and seeing one in real life will give you the information you need. Pictures and video by Feinwerkbau below, they sure look better than mine.
Manual & exploded view
The manual is very basic, like most if not all pistol manuals (I've not seen them all). The exploded view is missing from their website.
(You can find links to other air pistol manuals and their sighting adjustments here)
Support
When I've had to reach out to Feinwerkbau for support questions they've always been super nice and have responded timely. When I had an urgency they solved it faster. My experience with them has been very positive.
Unfortunately one of the dealers that is listed in their site for my country no longer deals with Feinwerkbau and offers no support, and the other one is some kind of big security shop that tells you to go to any gun shop and leave the gun there so that they forward it to them.
I'll keep on bugging the nice people at Feinwerkbau 🙂
Technical data
| | | |
| --- | --- | --- |
| | P 8X | P 8X short |
| Total length approx. mm | 415 | 380 |
| Total height approx. mm | 145 | 145 |
| Sight line length approx. mm | 330 – 400 | 290 – 355 |
| Sight height from barrel centre approx. | 15,2 | 15,2 |
| Barrel length approx. mm | 218 | 178 |
| Barrel diameter approx. mm | 12 | 12 |
| Caliber | 4.5 / .177 | 4.5 / .177 |
| Total weight approx. kg | 0,95 0,9 | 0,9 |
| Trigger weight approx. g | 500 | 500 |
| Longitudinal trigger adj. approx. mm | 22 | 22 |
| Rear sight adjustable mm | 2,2 – 7,5 | 2,2 – 7,5 |
| Rear sight notch adjustable mm | 1,8 -3,2 | 1,8 -3,2 |
| Block-type front sights mm | 3,6 / 3,9 / 4,2 / 4,5 / 4,8 / 5,1 | 3,6 / 3,9 / 4,2 / 4,5 / 4,8 / 5,1 |
| Approx. shots per cylinder | 160 at 200 bar | 100 at 200 bar |
Price
The Feinwerkbau P8X retails at around US$ 2100, €1655, Rs.162,132.
How to get them cheaper
If you are lucky enough to attend an international shooting competition in Germany, head over to the Feinwerkbau gun, where I bought mine for €1200 with a Feinwerkbau invoice.
Evaluation
It is an amazing gun. I just love it. The whole experience with it has been excellent, from the trigger to the support by Feinwerkbau. The people I share it with also fall in love with the smoothness of the trigger and how comfortable it is. Although it is not available with an electronic trigger, the pull feels so nice you will not believe it is mechanical.
If you hold it and fire it, you will love it. Go get yours 🙂