To promote shooting sports and direct public and private conversations to more helpful subjects and dynamics, I've launched the Fight Hate Not Sport Shooters initiative.
To make it easier to start conversations and to spread the message, I've started by launching t-shirts and other merchandising, plus a series of videos and posts that will be shared on social media (Instagram, Twitter and Facebook) and Youtube with the hashtag #FHNS.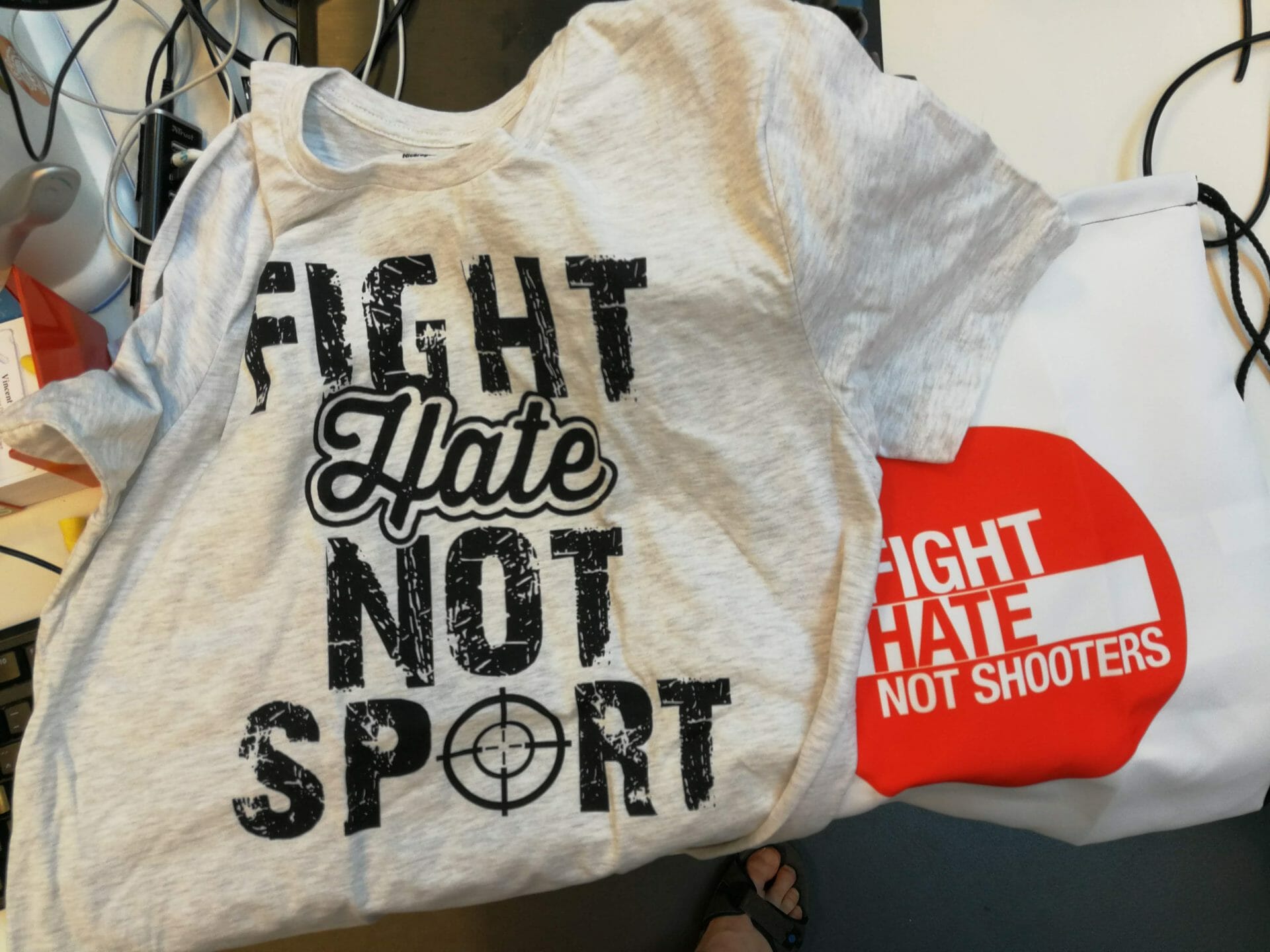 The profits of the sales will be used to sponsor sport shooting athletes and events.
The designs are currently done with two messages where only the last word changes:
Fight Hate Not Shooters
Fight Hate Not Sport
This comes from a comment on TargetTalk about the word shooters being too strong for most people in the USA because of having too negative connotations attached to it. I really appreciated the suggestion and immediately ordered new designs and moved the domain name to fighthatenotsport.com. But the Shooters t-shirts are staying for all of us that do not fear the word (plus they are also inclusive of leisure shooters). Hopefully we will all be able to change the perception of shooting sports with our efforts 🙂
We are not alone with this. Other people are sharing interesting information that can be useful to shift the conversation away from biased emotional views:
I'm always amazed by the disconnect between what we see in the news and the reality of the world around us. As my late friend Hans Rosling would say, we must fight the fear instinct that distorts our perspective: https://t.co/uQRofM4q2u pic.twitter.com/SzXDFr4clj

— Bill Gates (@BillGates) June 11, 2019
And I've started to have some fun with videos like this one:
And other videos like this one where I try to share some of the great things about shooting and why it is so fricking great:
More to come soon in the social media (Instagram, Twitter and Facebook) and Youtube of olympicpistol.com among all the helpful (or at least I hope so) content for sport shooters.
If you like this initiative and want to support it you can:
Spread the word about #FHNS by sharing the homepage, the products you like, and your own ideas using the hashtag #FHNS.
Buy the merch, use it with pride, and be open to have kind and candid conversations about why shooting sports are so great. Remember that the profits will be used to sponsor sport shooting athletes and events.
Share your own ideas with or without the hashtag #FHNS. Use the format you like the most. If you use the hashtag it will be easier for everybody to find it and share it. Let the world know why shooting is great, why shooters are not dangerous, what you think should be the core of the discussion… Whatever you feel is important.
Create & donate new designs like my friend Pascal van Den Driessche has done 🙂
Help in any way you can. Your smarts and experience will help make #FHNS much better going beyond my own limits.
Looking forward to your comments and contributions!