Today is a great day. A new series of interviews to great pistol shooters is starting, and we are lucky enough to have the opportunity to learn more from Abhishek Verma, one of the great Indian shooters that are taking hold of the podiums (#2 in the ISSF world ranking for 10m Air Pistol at the time of this interview).
These interviews have all the same format to highlight the differences and commonalities of all these amazing pistol shooters. If you have more questions leave a comment!
It is time for Abhishek to do the talking now 🙂
How and when did you start shooting?
I started in November 2014 with rifle for 2 weeks then pistol for 2 weeks and decided to go with Pistol.
What made you want to train and compete more seriously? What was your progression like?
I love shooting. It makes me happy.
It all begun as a hobby but very soon I started doing very well and many people told me to start participating in competitions. Then in 2017 I really took it seriously.
What are you most proud of in your shooting?
I love it and I am very sincere towards it.
What advice has had the biggest positive advice in your shooting? Who gave it?
My mother's advice was the best: "You can".
What did you spend a lot of effort on and later discovered it wasn't so important?
I spent a lot of time on follow through but at that time I skipped basics which are more important than follow through. Follow through happens with time automatically.
How do you train and how often? What does a typical training day look like? Do you train with a coach or by yourself?
I train at least 5 days a week, 4 to 5 hours a day. I do this in blocks of at least two hours. Then I hit the gym in the evening.
I train without coach but we have coaches always for assistance whenever needed.
How do you stay motivated in training and competition?
I just play with my heart and nothing else.
What do you do before a match or training to get into the appropriate mind space?
I read my shooter diary.
How do you manage nervousness through a competition? Can you give an example of inner talk you use when things are not going well?
I always listen to my favorite music and it works for me. When I shot a bad series I tell myself that I'm doing a mistake, to stop it and to keep using my technique.
What aspect of the shooting technique has brought you the biggest improvement? How would you recommend people to train it?
I would recommend people to just learn to shoot and to do shot grouping fire, not to always think of scores.
What would you recommend pistol shooters to focus on improving (technical, mental, physical…)? Can you share one exercise or routine for this? How do you think they should go about it?
To stay positive because it is the most important thing in shooting. If you can hit the 10 in one shot you can do it for every shot. It's only because of your mind that you don't.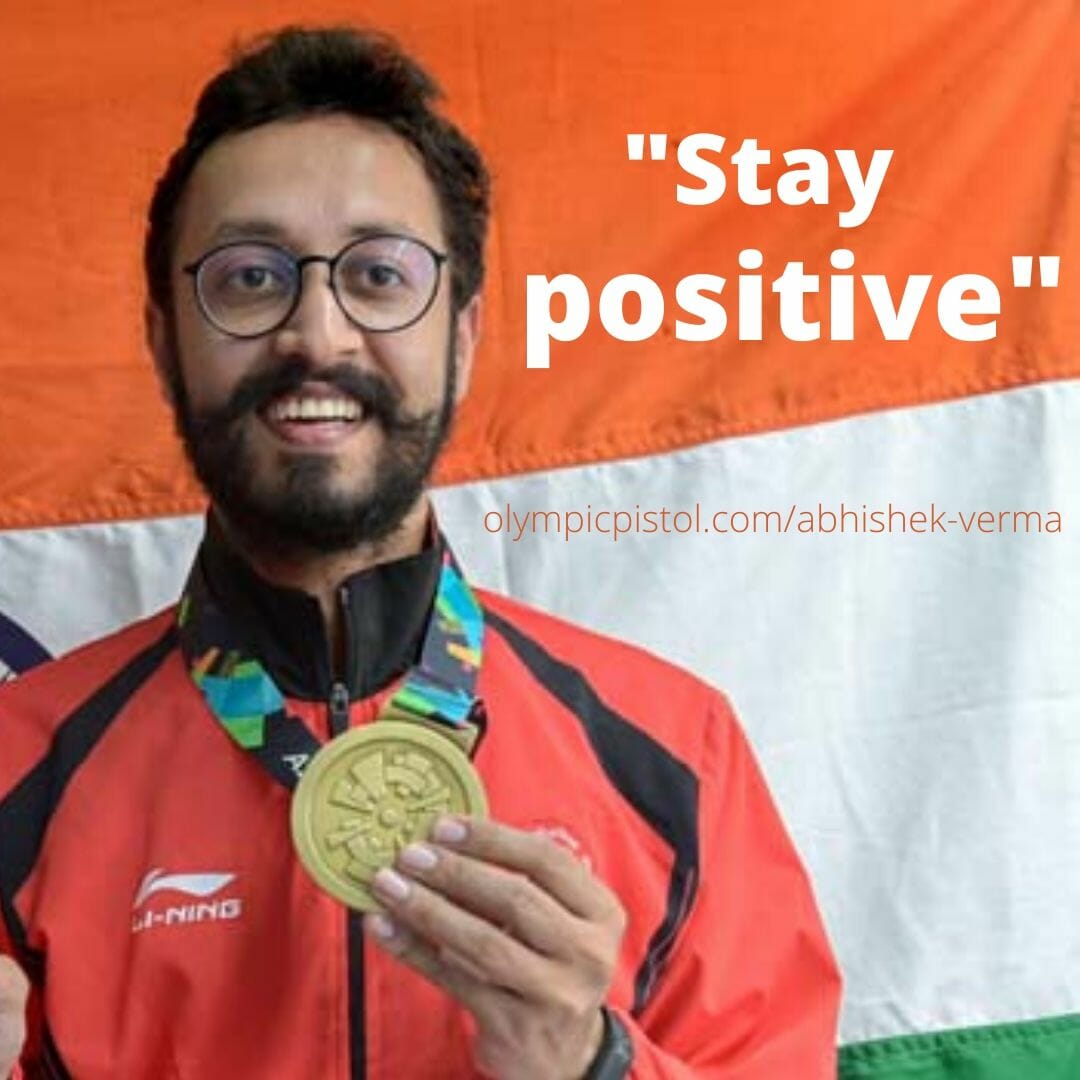 Which tool or equipment can't you live without?
My Pistol.
Who would you recommend is interviewed next?
Manu Bhaker and Elavenil Valarivan.
Learn more about Abhishek Verma on his Instagram and Twitter accounts.
You can see him perform in this video. The length of his holds and his concentration are amazing. Focus for a shot in his shooting eye…