I've recently gotten a hold on a SCATT MX-02 for my pistol training, which has allowed me to use it both with the SCATT Expert and Professional (Pro) apps (you can download them both free here). Making this post came to mind because until now I've been using the Pro version with my SCATT USB and a lot of differences stood out.
Please read everything here in a positive view, even the Cons. I really like SCATT and I'm learning a lot with it. Think of the Cons like things I would like to have to make my ideal SCATT application. Also keep in mind that I have not used any other trace tools. If you have a different one it would be great if you could comment below in a way that would be helpful. If you work in a company that makes this kind of tools and you want me to try yours, contact me.
Where possible I've used one of my own SCATT training sessions. You can get all my SCATT files here and a zip file with a lot of examples from pro shooters here.
Highlights & differences
Interface
The first thing that struck me is that the SCATT Expert interface looks like if it was made for a touchscreen. I dream of being able to use it wirelessly on a tablet (there's way too much information to fit it in a mobile phone as it is).
It takes a bit of effort to get used to the interface, and it can be confusing in the beginning but you get used to it quickly. For example, the Home button is in the lower left corner, a blind spot. I consider it an improvement over Pro but needs itself to be improved a bit to match our current use of mobile interfaces.
The main advantage of the Expert interface over the Professional interface is that you can see a lot more relevant information on screen, without having to dig with tabs that hide the trace. You can even overlay some of these graphs on the bottom of your target.
The names of the columns are easier to identify and read. When you print the document for the session they are substituted by icons though. Maybe they should be used in the screen interface to keep consistency. They are nice!



Calibration
The calibration mode is automatically launched and closed as soon as you get a shot in. Comfortable. It does not open every time you launch the program, but there's a reminder in the screen to run it again if you have changed the position of the sensor or the distance to your target. When using the MX-02 with the Pro software it is launched automatically every time. When using Pro with the SCATT USB hardware calibration has to be launched manually.
The main difference with the calibration in the Expert and Pro tools is that in Expert you can set the program to auto detect the frequency of the lights you are using (50 or 60Hz).
Shot correction
Shot correction has changed and you no longer click on the shot and drag it.Instead you have to click on a button in the bottom of the screen and then click on the spot where you think the shot have landed. It is not better or worst, you just have to get used to it.

Expert does keep a good behaviour from the past: no need to press correction button again after correcting shot to shoot. Just raise your gun and shoot.
Vocabulary
The trace is sometimes called aimpoint trajectory. Both names are helpful to understand what you are looking at. I find aimpoint trajectory very helpful when explaining what SCATT does to people that do not know it.
The F Coefficient is now called Ballistic Ratio and also used as ballistic F coefficient. It is more intuitive to understand it.

Gone
No more Probability tab (probability vs bullet dispersion graph). Did anyone understand it? This is probably the reason why it disappeared. I asked stats magician to see if he could help me understand it and he did not understand it either. If you understand it and can explain it, please leave a comment. I would love to learn!
There's no single shot speed graph, and I really miss it.
There's also no more clicking on a shot in the left side targets to jump to it.
How to import and export SCATT files with SCATT Expert
How to export from SCATT Expert
SCATT Expert keeps all the files in a single database, instead of in separate files like SCATT Pro used to do. To export your SCATT files you have two choices:
Click on Open recent sessions when you launch SCATT Expert on your computer and then click on the sessions or shooters you want to export and click on export at the bottom of the page. To export everything tick the Shooters box and then click on export: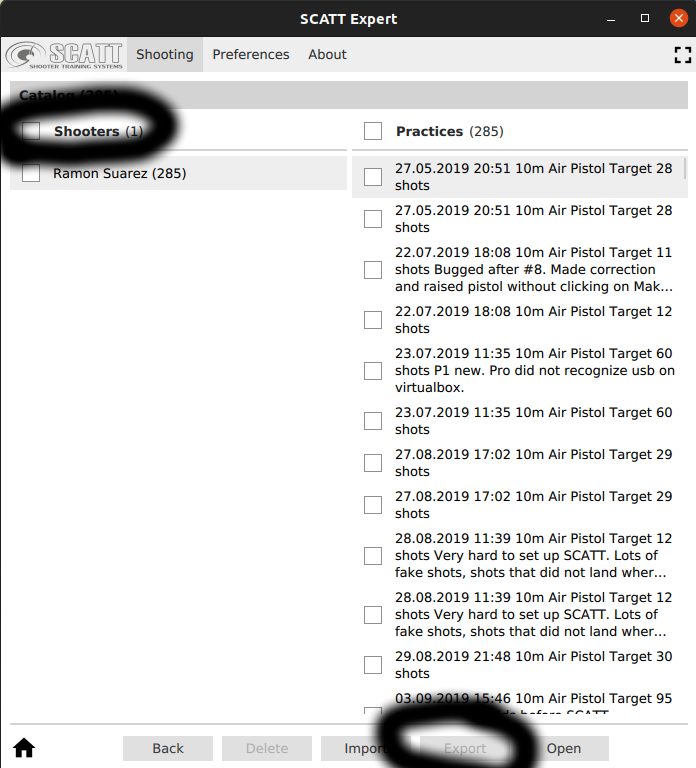 Export the whole database of files, which is a file called storage.dat:

On Windows computers you can find it in C:\Users\USERNAME\AppData\Local\SCATT Electronics\Scatt Expert\storage.dat (my USERNAME is ramon, use the one you have on that computer).

On Linux computers you can find it in ~/.local/share/SCATT\ Electronics/Scatt\ Expert/storage.dat
If you know where it is stored on Mac computers, please let me know.

Some android phones have the storage.dat file stored under /data/data/com.scatt.scattexpert/files/ (I don't have that /data/ folder on my Samsung Galaxy S20 FE. I have found the same folder via Android/data/com.scatt.scattexpert/ but it only contains and empty /Documents folder, no db in any of those folders. I tried both internal storage and sd card from the phone and via computer. No luck so far.)
How to import into SCATT Expert
Don't worry about re-importing the same files multiple times, SCATT expert will only keep one file, there will be not duplicates.
You can easily select all .scatt files from your SCATT USB folder for import via Open recent sessions and then clicking on the Import button at the bottom. Don't worry about re-importing the same files multiple times, SCATT expert will.
For older SCATT files (text formats) you should first import them into SCATT USB and then follow the previous method to import them to SCATT Expert.
To import the storage.dat file that holds all of the sessions in a computer install of SCATT Expert, rename the type of file (the name does not really matter) to .scatt-expert.

On Windows computers you can find it in C:\Users\USERNAME\AppData\Local\SCATT Electronics\Scatt Expert\storage.dat (my USERNAME is ramon, use the one you have on that computer).
On Linux computers you can find it in ~/.local/share/SCATT\ Electronics/Scatt\ Expert/storage.dat
If you know where it is stored on Mac computers, please let me know.

If you receive .scatt-expert files you can import them from the screen with all the sessions in it (click on Open recent sessions and then on Import at the bottom of that page)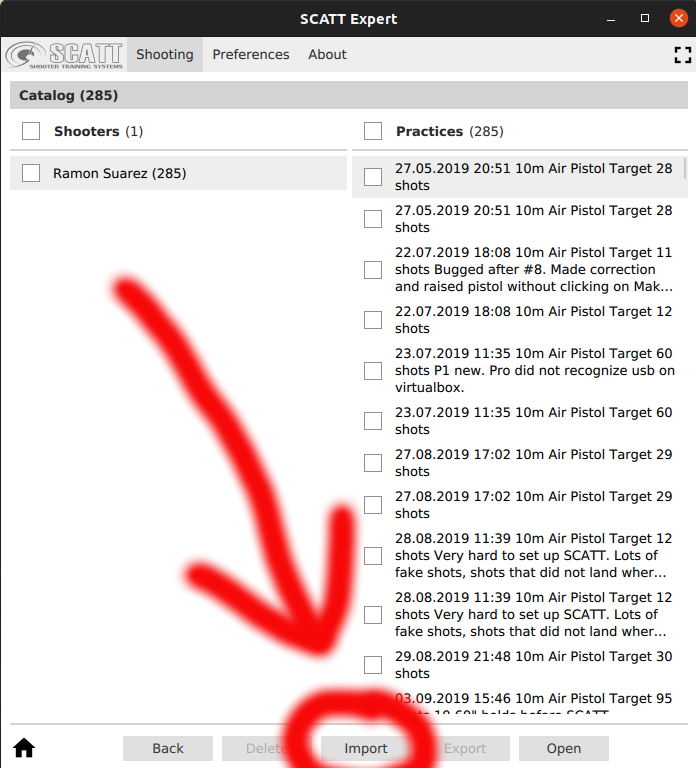 Pros
These are the main pros I've found using the tool so far:
Expert software works with MX-02 and MX-W2 sensors.
The data columns names are easier to understand and the size of the columns is more balanced. It now includes a direction column with arrows to show the direction of the shot. It really is missing in the Pro version.
You can change the font size to read the numbers easily.
The on screen information is more complete and makes it easier to analyze shot.
the area of aiming is helpful (a grey square or circle that holds your trace in the last second). I find both figures helpful. Th square tells you if you have more displacement in the x or y axis. Both make it easy to figure out where the center of the last second of trace is, which can be very hard to see in the Pro software.
It works on Linux! To run the Professional version I have to run windows in a virtual machine. I just hate having to wait seemingly forever when I want to train and windows wants to update itself.
It can import all the SCATT Professional files. One of my files does fail to import and I don't understand why nor there's any helpful information, but the rest imported fine and fast.
It includes a reduced target printing tool like Professional.
You can see in real time how the dispersion of your shots changes just by moving the Ballistic ratio slider. Very helpful to understand the ratio itself.
You can add a lot of information to be seen in the same screen.
You can add the distance graph as overlay on the bottom of target.
You can easily star shots (not available in Pro. The workaround for Pro is to write them in the info box.)
You can easily write on the comments box without leaving your trace image. It is available on a right sidebar that you can show or hide without removing the target nor the left column.
The shot interval graph is highlighted in bottom, with 10s in red and the current shot as a pink circle. It makes it easy to see how the session is going without having to go to another tab. I wonder if there should be different colors for all rings the other rings, at least for the 9.
The print out and PDF includes the single targets for each series.
You can zoom into the target by sliding in your mousepad.
It also keeps the number keys to quickly zoom in and out.
There are Previous and Next Session boutons at the bottom of the screen, which makes it much easier to .
It has rescued a Pro session that bugged by importing it.
And last but not least: the excellent customer support by Stanislav Leynov from Mouche. He's quick, super helpful and full of insights. Stanislav has been helping me a lot with some issues with my seemingly too old SCATT USB sensor that I did not buy from him and I've learned a lot from him. It has always been a pleasure. I hope I don't have to contact SCATT support again in the future, but if I do I know I'm in good hands. If the rest of the SCATT support network is half as good it will still be great.
Cons
These are some of the cons I've found. The thing about cons is that they stand out more because you have a stronger reaction to them than to the pros (which are also harder to notice, we get used to good things too easily):
Files cannot be found in your hard drive without exporting them manually, so there's no sync with Google Drive, Dropbox or any other tools like that. I love having automatic backups of the files and this is a big issue for me.
No pause button (to dry fire on target for example, as you would during match). At least with Expert software deleting shots is easier than with Pro.
When exporting files there's no name included by default, which adds to the tediousness. I think this is the case because you can actually export multiple sessions as a single file at once, but still the standard naming convention of SCATT should be used and included.
There is no speed graph for single shot. I find it very useful to analyze my hold and trigger. Averages can be very misleading.
There are no 0.2″ mark in the graphs. The importance of that last bit got hammered into my brain using the Pro software before (length of the blue trace where there's no time for your brain to send and order to your body and execute it). In the manual of the MX-W2 it says that the blue trace is now 0.3″, so at least that should be marked to help extract insight from the graphs.
No instructions for Expert software in the MX-02 manual.
Left and right side columns scroll uncontrollably with mouse because they are too sensitive. Getting used to it is a challenge in itself. Using keyboard to move shot by shot much easier. This behaviour makes me think that the interface is intended for touch screens.
Useful shortcuts don't work any more: F3 to launch match, F2 to calibrate, space to replay… There's guide to key shortcuts in the manual nor in the software. I would love to have a star shot key.
No help tab or link on the menus of the app.
The manual instructions are lacking, as usual with SCATT manuals. They are very scant. There's no clear explanation of how to measure distance to target (has to be done from sensor) which is paramount to getting your sensor working properly. It is great that we now have a SCATT forum to get some help and tips. This should help raise the knowledge and use of the SCATT tools a lot. It is also a great opportunity for a book. I'll buy it.
There are no Linux instructions. There's no file included with app download to explain how to use it and how to open the port so that USB cable is recognized. Download this file if you are using SCATT Expert on Linux and it does not recognize your device. It includes the simple terminal instructions to open the needed ports 🙂
Files do not open automatically when double clicking on them (at least on Windows and Linux).
SCATT Professional can't open .scatt-expert files. It want to be able to read the single shot speed graph! 🙂 There should be a tool to convert them.
When exporting files you have to name them yourself. If you export multiple files at once it creates a single file.
Messy interface to choose targets. Not evident to find the uncapitalized types in the bottom right of the screen. There's no search.
You cannot print a target without your sensor connected to the computer. Usually when I'm close to a printer my gun is stored or not even in the same location.
You can't order the list of your sessions. It would be great to see latest first, as they are the ones you may come back to more often.
Can't choose shots on targets.
No historic view of shooter's stats. No easy export to spreadsheets (Google Sheets, MS Excel…). This is the same in the Pro software. It is a pain to have to type it manually in a spreadsheet.
No Compare to model. I really miss this. It helps me see progress. It is not an evolution over time in different sessions but I can compare two.
Session info is only available in print preview and paper. It is available on its own tab on Pro.
Print does not include totals of rings (x, 10, 9, …).
The trace replay is very fast and there's no way to change speed.
No double click on items when launching a session to open or move to next step with that choice.
Can't resize panels and graphs.
Space bar is no longer the key to replay. It activates shot correction mode. Enter is now the key to do that.
Have to open files individually to print them, too bad it can't be done like with the export button, just select a bunch of them and send them to the printer.
Sometimes it opens a file that is not selected instead of the file that you want (first to last instead of last).
Got a couple hangs when running the software. It may be linked to the sensor, I don't know.
Which one to use?
Depending on the sensor kit you bought, you may not even have a choice. The possibility to use both programs is only available for MX-02 sensors.
I love and prefer the interface of the Expert app, but the lack of file sync and compatibility with the Professional software makes it a deal breaker for me. It would be more comfortable for me to run a native Linux app instead of having a virtual Windows environment, but having to export all files manually and then sync them will mean lost files and a lot of bother. In fact, because of this I've decided against buying the MX-W2 wireless model, which only runs on Expert. Not having to run the ethernet cable from the SCATT USB target frame to the computer is already a great improvement, I can live with the USB cable to the pistol.
So I run all my sessions in SCATT Professional to make sure that I have them synced with Google Drive. I can also look at the speed graph for single shots, which is important to me. I do use the SCATT Expert to review some times, but I don't long how long I will keep on do it because of the extra burden of importing the files each time. I wish the two programs could coexist with all files in a folder.
How about you?