I love practical books (I've written three manuals myself and a target shooting journal) and when I saw Graham sharing his book on social media I immediately contacted him to get a hold on a copy and write a review. Why? Because I could see the potential for helping out sport shooters around the world and make it easier to bring in more people to practice and love sport shooting through having a lot of inexpensive and easy to build and maintain air pistol and rifle ranges. Graham has delivered.
PS: To make everybody's life easier, I've included Amazon affiliate links to the book, materials, and tools. This makes it easier for you to find and visualize them and in case you buy anything via those links I will get a small percentage back that I mostly use to pay for books.
Structure of the book
This range construction book follows a linear structure of the project that you can easily read and implement from the beginning to the end or skip to the sections that interest you. The sections are short and full of helpful images, diagrams, and lists. What Graham has done is document building a modular range in Scotland that had to be put away when not in use because it was installed in room shared for multiple activities. The best thing about the modularity of the project is that it can be easily adapted from the six lanes he built to many more or down to one for home use.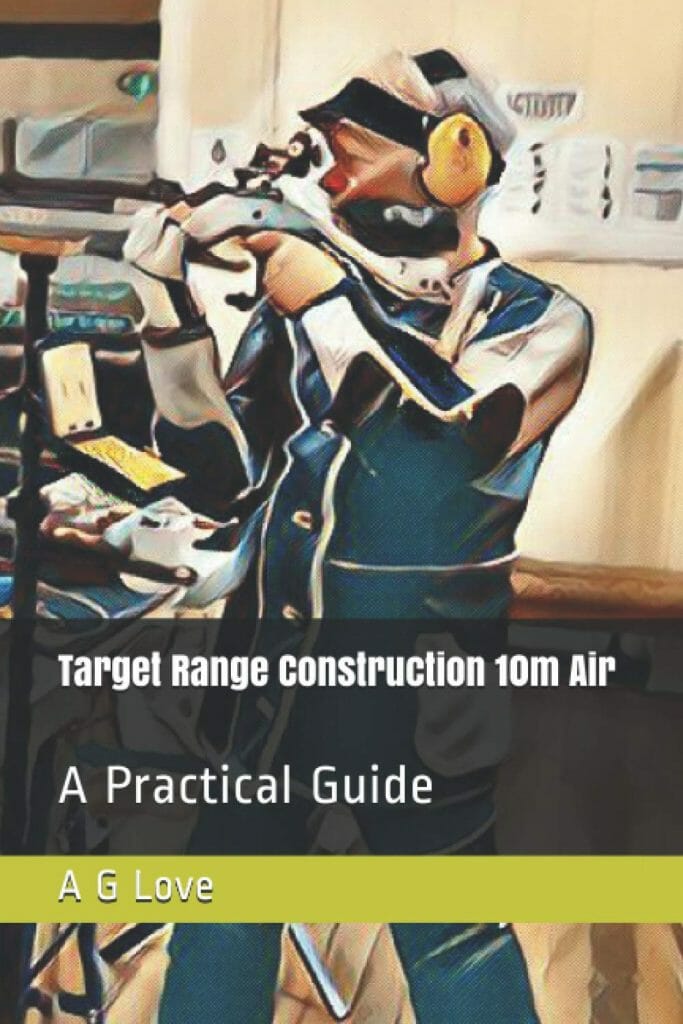 First things to take into account are finding a venue to install your range and the funding necessary to do so. The UK legislation part is not applicable elsewhere but it is a good reminder of things that you have to look into for your own area.
Tools, range layout and materials
The first list in the book is for the tools needed and also explains how to find them if you don't have them available.
The range layout is straightforward and Graham explains the compromises that he had to make to fit the range with the available space and materials. The security of the area is important and he provides clear instructions on what to look for and some examples of signage to use.
When it comes to sourcing materials the book gives some tips on how and where to get them and then it dives into building the first part of the range…
Building the targets
This manual describes how to make movable target frames on wheels, with steel pellet catchers and fabric backstops, and even a system a system to keep them locked in place. Instructions for the sewing of the backstops is clear and concise and the choice of lighting is cheap and easy to install.
The firing points
For the firing points Graham used heavy duty saw horses, workbench tops and umbrella bases. He's also included the instructions to make your own inexpensive electric target pulleys, to gain shooting time and reduce pauses. If you have funds for electronic targets you can skip this part, but it is a great idea. You could also buy hand cranks like these ones that I love.
The appendices
Throughout the book you will find plenty of pictures to guide you in the construction of the airguns range. In the appendices Graham has included collections of useful documents and lists, such as:
The risk assessment document.
Links to source materials.
Parts list for the control boxes of the electric target pulleys (including names, description, purpose, pictures, and in some cases where he sourced them from), their wiring diagram and extra pictures of the wiring.
Plans for the pellet catchers.
The cutting list for the table slider.
And a detailed parts list for everything else you need.
Improvements
These are the few things I think can make this air arms range building book even better:
Provide a link to download the posters for signage, if possible with editable files that can be adapted.
A web page with all the links to buy the tools and materials or a link to a list on Amazon or other shop where I could just click and buy everything or pick and choose easily. Graham did list some shops to go to (thanks!) but I'm a sucker for lazy easy direct links.
Giveaway
Next Thursday I will download the list of all current people signed up to the newsletter, randomize it, and award three free range building books to the first three that show up in the list. If they do not want it or do not respond I will go down the list until the three are given away. These copies come with the compliments of Graham Love and the shipping and handling is provided by me.
Review
I love this book. Alasdair Graham Love has crafted and shared a really helpful book for all the ISSF air pistol and rifle fans helping with the promotion of our sport by building ranges to practice in. Without these ranges it becomes much more difficult to practice, and much lonelier too. We need more ranges to bring in more new shooters to discover and learn to love sport shooting while at the same time promoting the advancement and enjoyment of all kind of shooters. This practical guide for the construction of air pistol and rifle ranges (temporary or fixed) provides the guidance needed to go from budgeting to finishing your project. It is compact, concise, to the point, and clearly illustrated. Buy it, use it and share the pictures of the ranges you build with it. Together we will make our sport grow 🙂
Thank you Graham por putting in the time, effort and courage needed for sharing this book with the world.