Some time ago I stumbled into the launch of a website to upload, visualize, analyze, compare and share SCATT files… and I loved it. The site displays the information in a helpful and easy to grasp way, and the wheel of the mouse zooms easily on the different parts of the interactive online file viewer.
I love to see shooters putting the work to help other shooters out, working hard to improve our shooting experience and learning. So I reached out to Thomas via TargetTalk and he agreed to reply to a few questions, although he does not want to disclose his identity. If you want to contribute to the scatt-database development and thank Thomas for his effort you can make him a donation.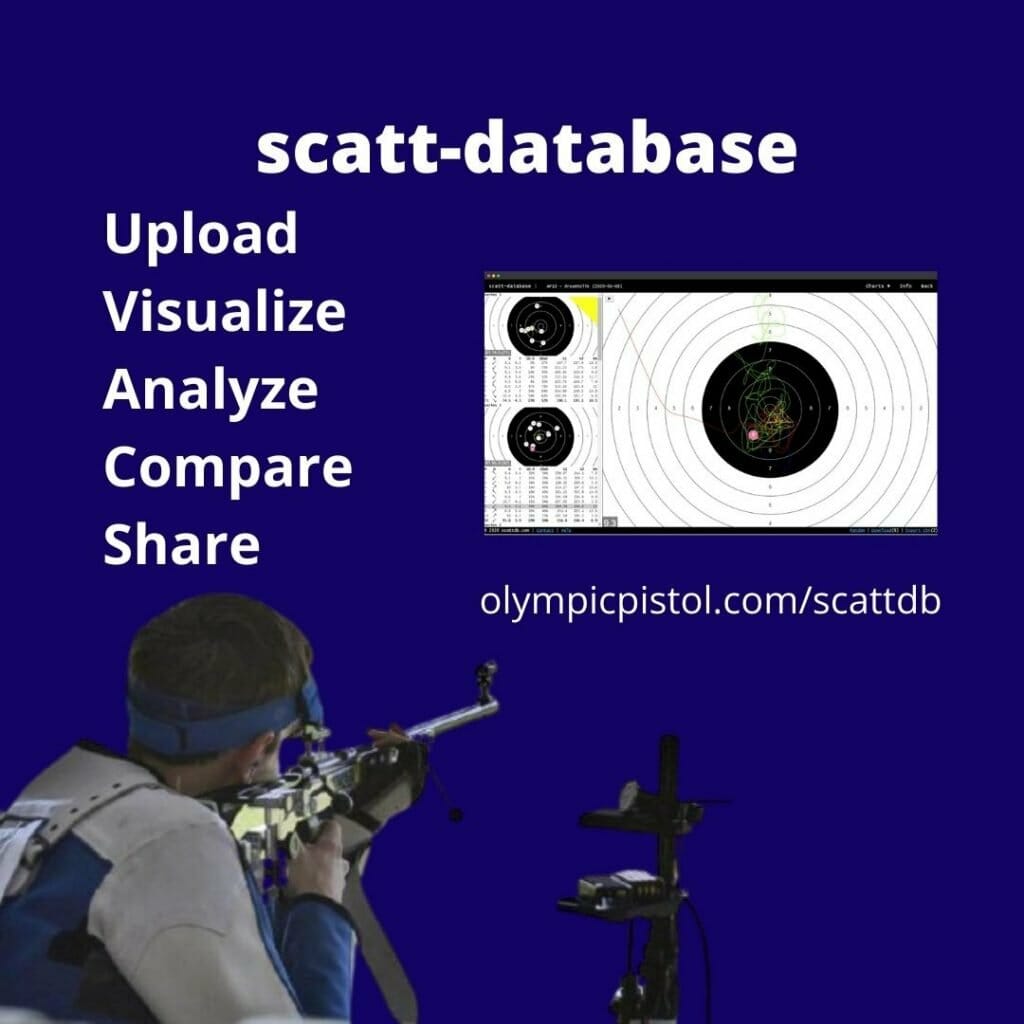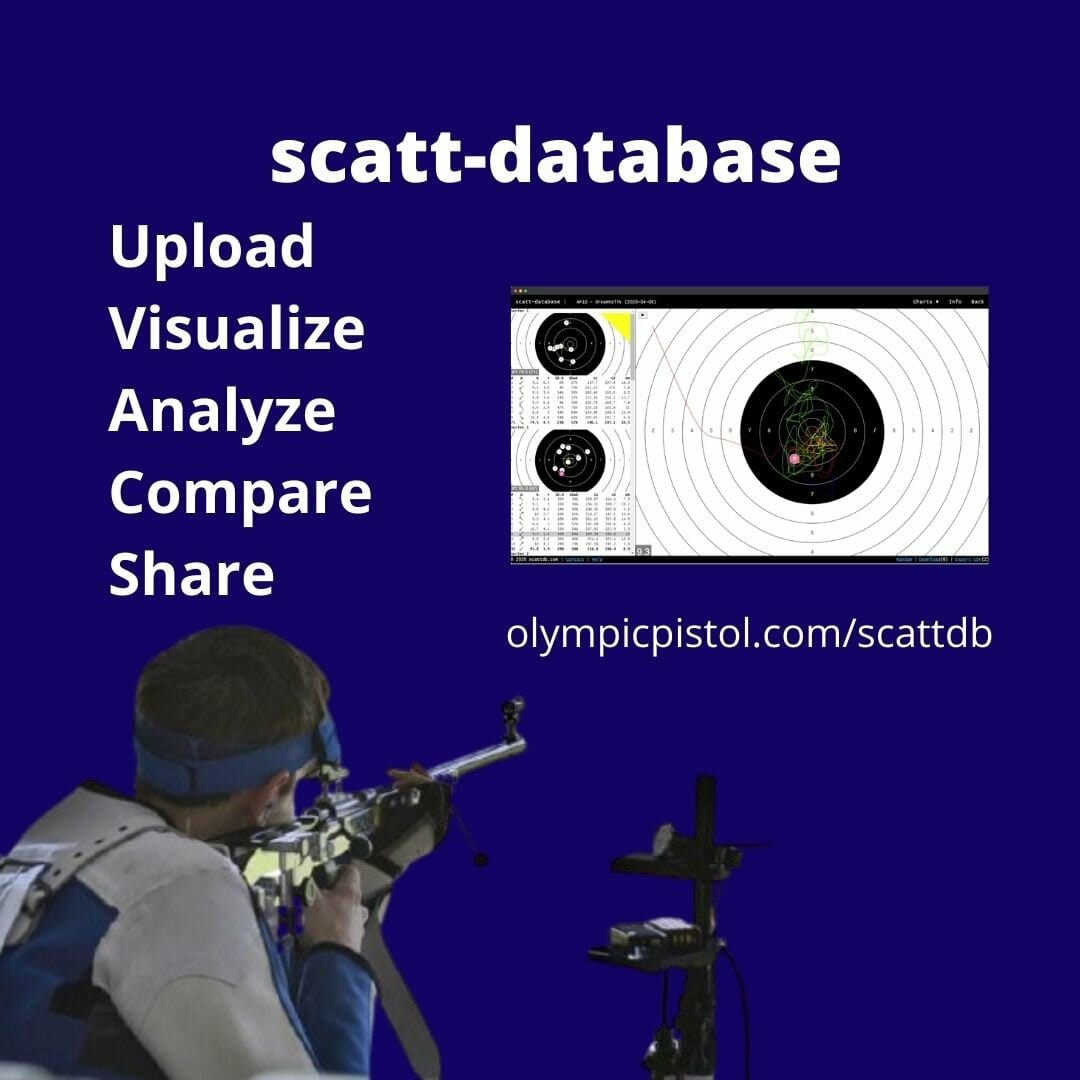 Who are you and why did you create scatt-database?
I'm Thomas, a French rifle shooter. I practice 10m AR and 50m prone and 3P. I'm a user of a SCATT USB.
I created scattdb.com during the COVID-19 confinement. During this time, I saw online that a lot of shooters were training with their SCATT and that they were sharing their training files. I also like data and analysis, and for a long time I had been wondering if I could collect a lot of SCATT data and make something out of it. I also saw that a lot of people were searching for SCATT files to compare with. So I started a very simple website to share SCATT files.
What's the main advantage for shooters of uploading their SCATT files to the database?
First, they contribute to the shared database of SCATT data and files. Shooters share their training on scattdb.com to help other shooters. It can also be used as a backup solution and as an easy way to open multiple SCATT files and compare them.
Maybe in the future with a lot of SCATT data we can do something to help shooters with. Maybe with some AI or machine learning… Ideas welcomed!
What are the main features of the SCATT Database site for analyzing SCATT files?
The main features of the site is to read the SCATT file and see it like in the SCATT software but in your browser. You can retrieve almost all the data you have in SCATT software on the website, although there's less data available for Expert and Basic files. You have some analysis on the data, with icons showing if you are doing good or not based on values recommended by SCATT.
You can zoom the target, see the shot trace, the data… You can download the files of other shooters if you want to see them in the SCATT software, and also export the data in CSV format.
You can share your SCATT files with a simple link.
You can retrieve all the SCATT files by discipline, shooters, search the database… In the individual shooter's page you can see all the training sessions of that shooter, download their files, and see some graphics. You can also comment and discuss their files.
You also have a new view that is closer to what you see in the SCATT software (example). You can select a shot by clicking on the shot list, see some stat graphics and replay the shot trace.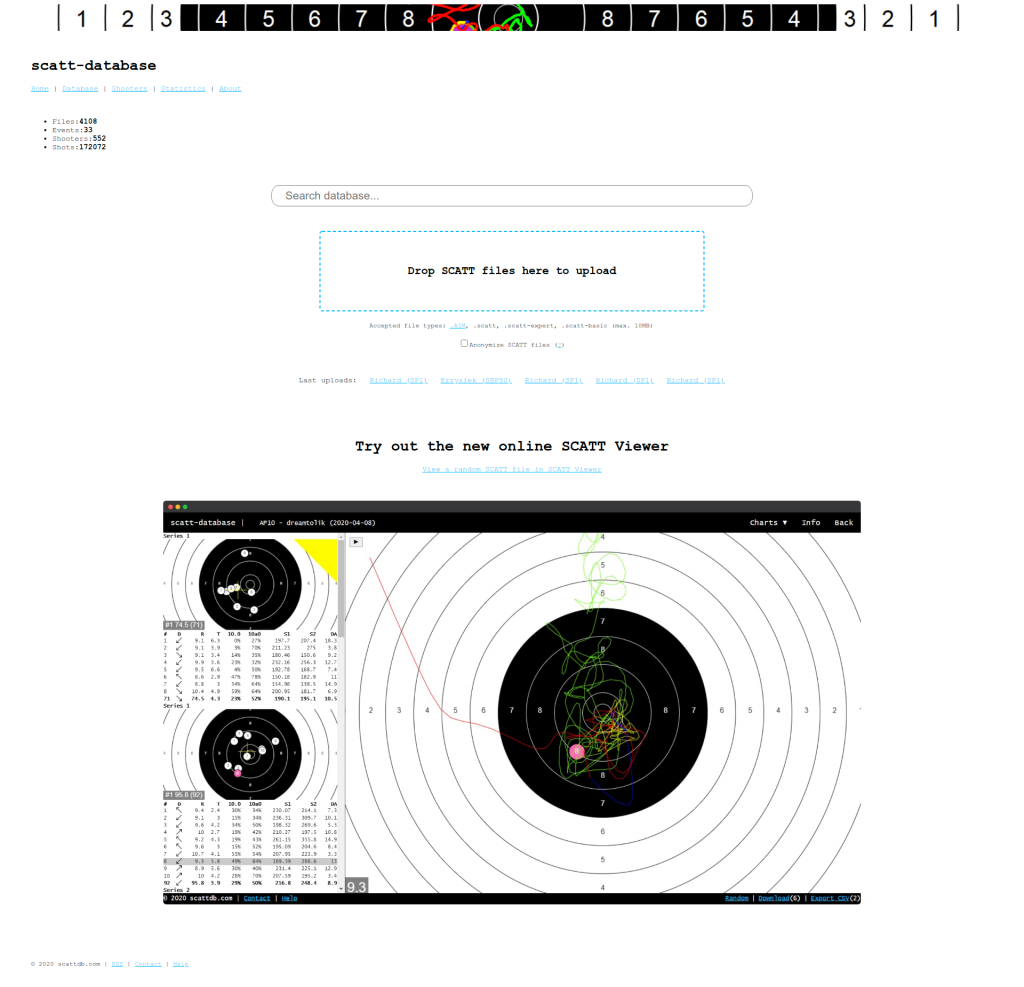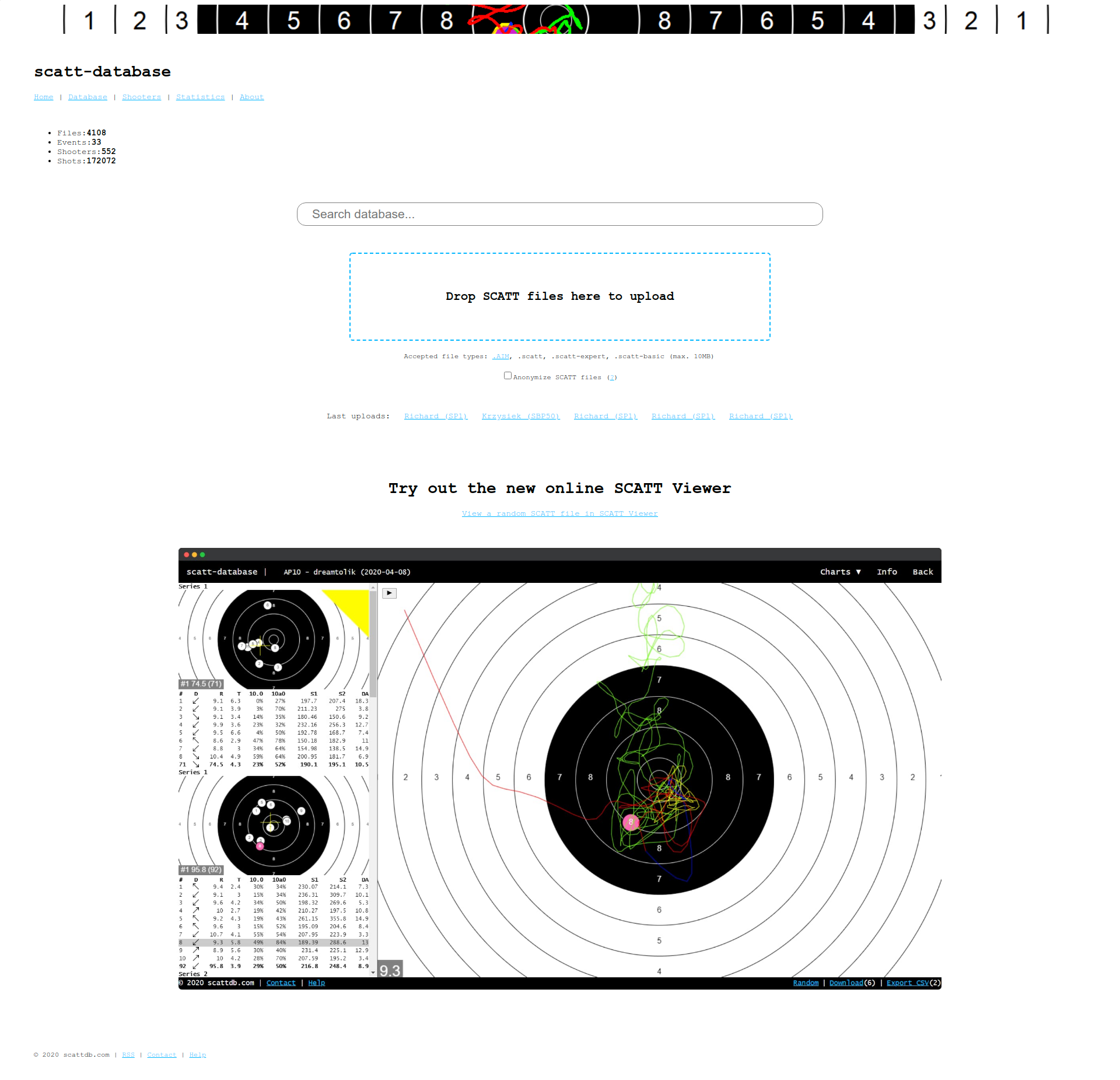 How do you advise shooters should use the site?
People can use the site in multiple ways:
As a backup solution.
As a sharing solution, with your trainer, coach, teammate.
And for personal use, simply like SCATT software.
You can also compare yourself with other shooters.
Have you done or are you planning any analysis of all the files uploaded to extract insight and share it with the world?
I have already done some analysis of all the files uploaded. It's a very basic analysis on some of the useful data in SCATT files. You can use it to see where you are compared to all shooters.
I'm not a specialist so I'm open to all suggestions.
What have you learned from the uploads so far?
So far I learned that SCATT is used mostly for olympic disciplines but we can see that it is also used for a lot of other disciplines.
Most importantly, what I learned is how great shooters and well known shooters are shooting. It's very interesting to see the data from high level shooters.
Have you planned the creation of accounts to privately upload and analyze shooter's results without sharing?
It's in my mind. If a lot of people are interested, I can do it.
Right now, you can anonymize the file you upload if you don't want people to see your name or pseudo you use in SCATT. It simply replaces the name used in the file with scattdb.com.
Are you planning on adding SCATT Expert and Basic data analysis? Aren't their files the same kind of database as in Pro? What changes?
I would love to. For now it's impossible. I can only access some of the simple data, like name, score, … If someone finds a way to read it…
No, the files are not the same. The Pro files are binary files that we can read with, for example, this program. It was provided a long time ago by SCATT to read their files. Now, SCATT Expert and Basic files are sqlite databases and most of the data are encrypted or not readable by a human.
What is your advice for shooters using SCATT
Keep it simple. Don't start to overthink things. Use it for one purpose at a time. Not everything at once. There is too much information. For example, check your entry in the target and focus on that. Don't look at all the data on how much time you spent on the ten's zone or what is the shot result.