I've been doing a lot of reading lately about how to train my technique and mind for pistol shooting. My notes are a bit too extensive and it is difficult to refer to them in training to make sure that I act upon a few points beyond the goals of my training session.
This is my first cheat sheet:
It includes a couple notes and exercises from the book "The Psyche of the Shot" and general reminders from my latest readings and exercises.
My second cheat sheet was born out of my competition last Saturday: I did not know how many clicks I had to do to set the pistol for the sighting shots when changing from precision to duel, and I also got the direction wrong: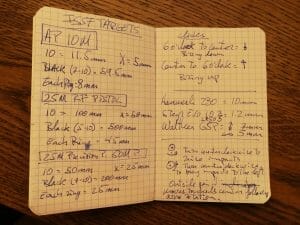 I'm going to use this cheat sheet Wednesday or Friday to test the club's .22lr guns and write a final cheat sheet with my recommended clicks for each weapon (I use a Hammerli 280 and an old Walter GSP).
What are your favorite pistol cheat sheets? What kind of papers and reminders to you like to carry with you to training?