Thanks to the initiative of David Maryakhin from Sport Shooting Depot, Sauer agreed to send me their Easy Top shoes for pistol shooters to review. I've wanted to test Sauer shoes for a long while (they are one of the legendary brands) and now I had the opportunity to do so thanks to both of them 🙂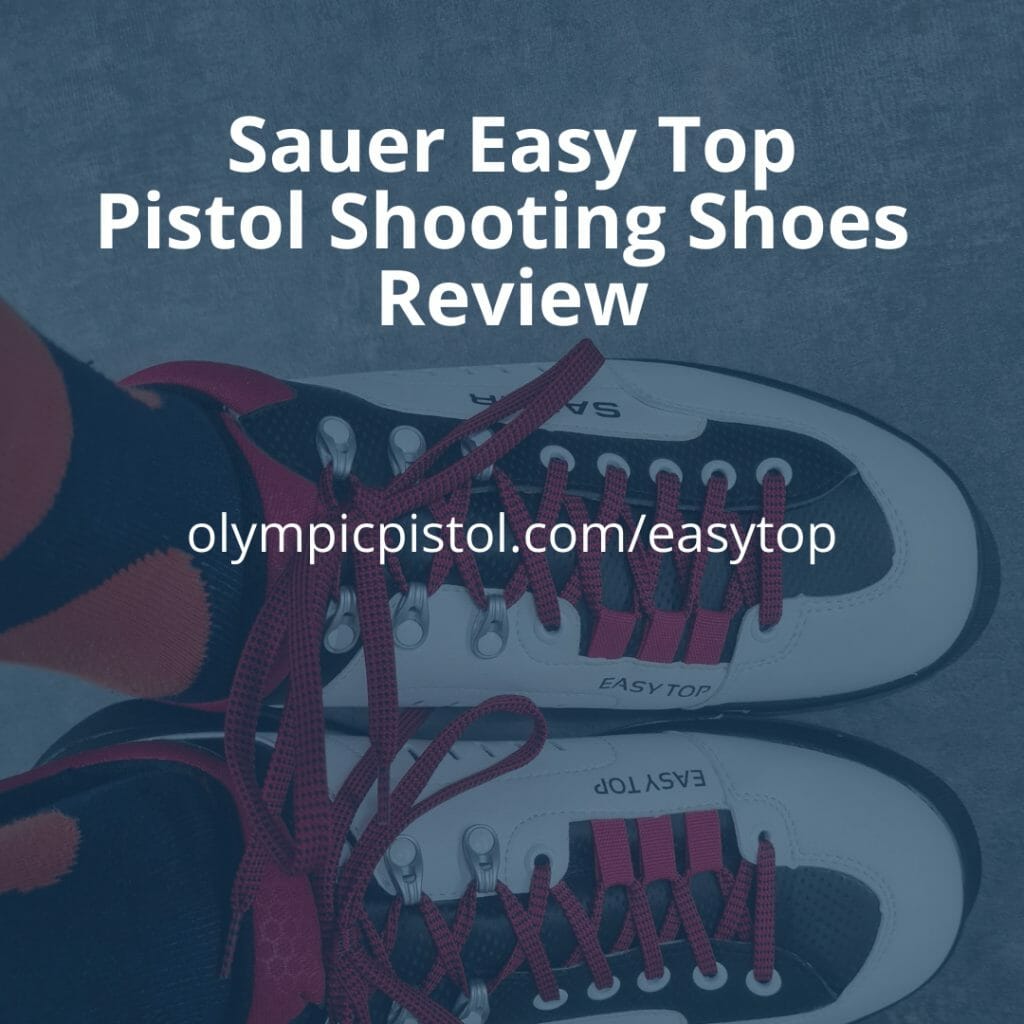 Unboxing and content
The shoes come in a light cardboard box that is very well wrapped and does not add extra weight to the parcel. When you open it the first thing you see is the linen bag to carry the shoes in. In my case at least there was also an envelope with a letter from Sauer, that will probably be the bill if you buy them online.
The first impression when you see the Easy Tops is great. They are well made and beautiful. A red pair of shoe laces with black dots is already in place and a second pair of black shoelaces is also provided (both high quality).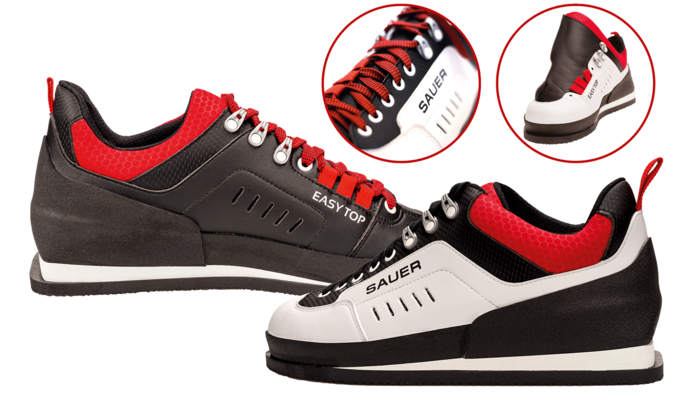 The shoes
Two things surprised me when I grabbed the shoes: their weight and their height. They are heavy: 902 grams (1.99 pounds) each shoe of size 46. And they have very thick soles that raise your height by 4 cm (1.57 inches) from shoe less. From the floor to the top of the hard band that surrounds the shoes in the back you have 6 cm ( 2.4 inches), and 3.4 cm (1.3 inches) in the front. This is not where the inner sole is: this band envelopes part of your foot.
They feel great to the touch, and the finishing is really nice. I specially liked the shoe tongue, which is part of the shoe on the inner side and breaks only on the outer side.
The outer soles are supper hard. They can flex, but definitely don't want to. You will walk a bit weird but it is a good reminder to take them off when you leave the range. They are also bigger than the shoes and extend front, back, and sides to provide extra contact surface, except for a concave part that I don't know what it is for and Sauer has not commented on. Is it like a suction cup? In any case I did not feel anything giving when I put all my weight on the foot. The shape of the front of the sole that goes beyond the shoe is cut by hand and can vary a bit from one pair of shoes to another.
Comfort
The shoes are well padded, slide on very comfortably, and are easy to tie. The leader is stiff but adapts well to your foot. The shoe laces slide very easily when tightening and provide an easier fit. Using thick socks like Sauer recommended- or in my case an extra pair of running cottonish socks- makes a lot of difference: the fitting is better and comfort improves. You feel that your foot is snug and well supported.
Getting used to these shooting shoes took me about three weeks. If you have ever worn orthopedic insoles you know how they feel at the beginning. In the case of the Easy Tops shoes the support of the arch is very high and large. In my case it went a bit under the heel, but it is probably because the shoes were a bit too big for me. After that there's nothing uncomfortable about them.
Inclination
I could not get any data from Sauer on the slope of the inner sole. What I can tell you from my tests is that I did not feel they were pushing me forward much, although I come from using Adidas Powerlift shoes with 4 mm rises under the heels. When I stand on them and balance myself I do not feel like I'm inclined to the front nor a fellow shooter could see it. Sauer claims they do have inclination to make it easier on your back.
Sizing
Getting the right size of Sauer shoes was the toughest part. In fact, after exchanging them a couple times I gave up and kept a 46 that felt OK with extra socks. They may be a bit big, but I did not want to have more shoes going back and forth to Germany. From what I've learned, the shoe size matches the one of regular shoes (not sport shoes, which I size smaller and you end up with a bigger size number). This is their conversion chart, which did not really help me: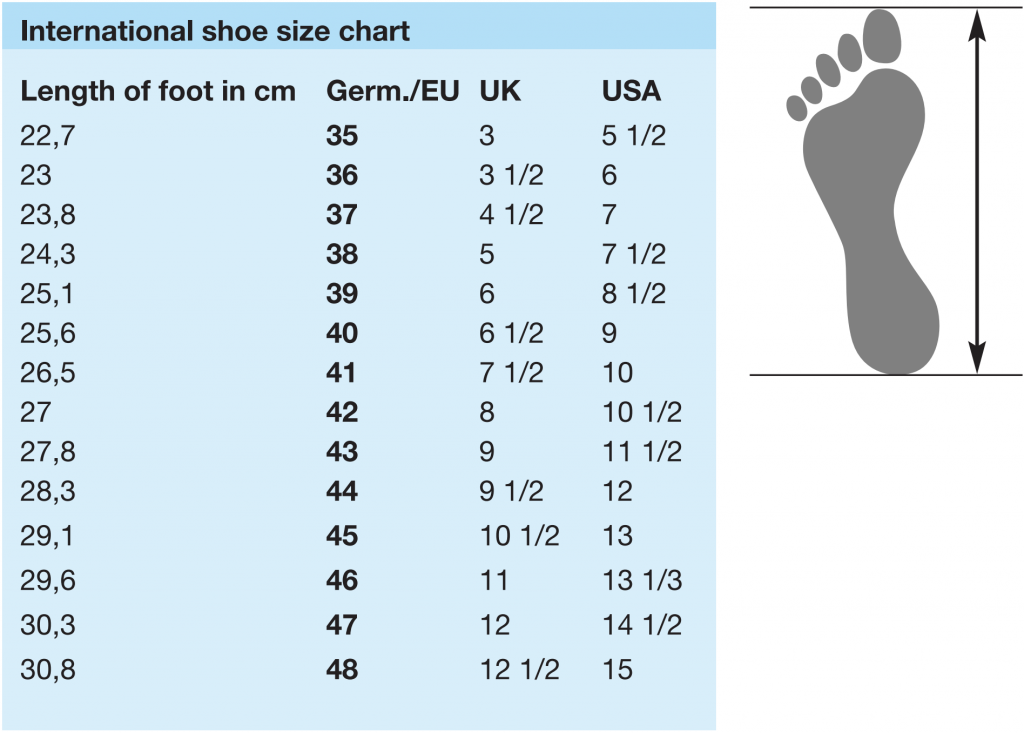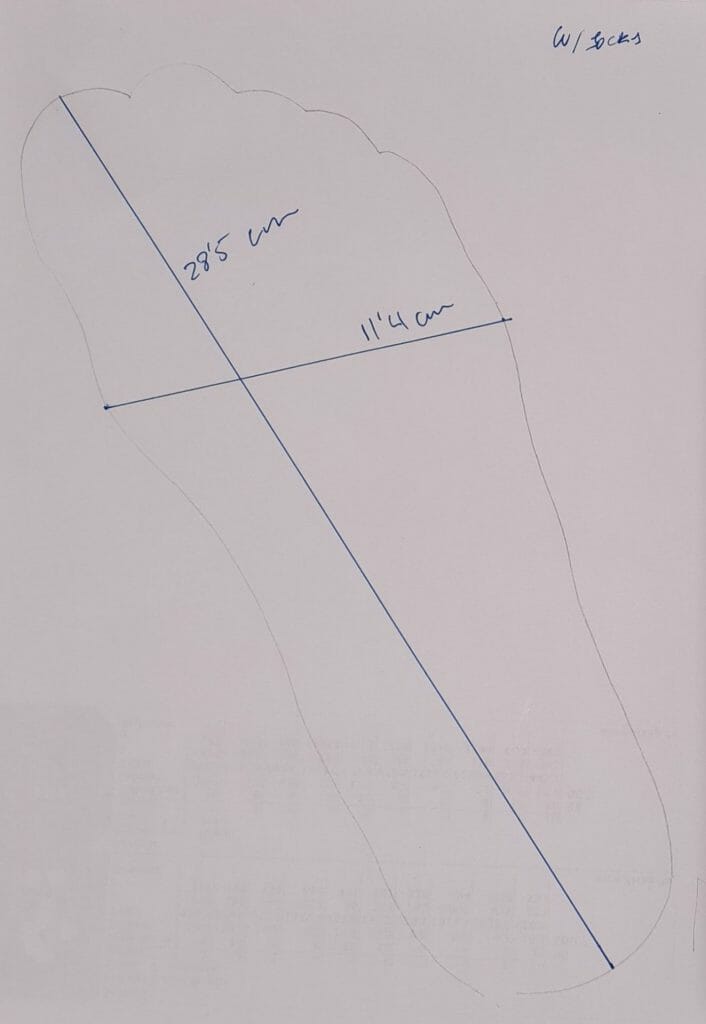 Price
Easy Top shoes for pistol shooters retail at €198 / $285 at the time of writing this article, a reasonable price considering that they last a shooter's lifetime (you will probably only change them because you want to treat yourself to something new and trendy).
Improvements
It would be very helpful if Sauer could improve the sizing chart and give clear instructions on how to measure your shoes (with or without socks?), to reduce uncertainty. Rink's web page for grip fitting could be a could guide. Most of us do not have access to shops that carry them and can only try them if we are lucky at national and international competitions. I did try to buy shooting shoes from Sauer and Corami a few years back and ended up buying the Adidas Powerlift because they had a great fitting guide and offered assurance about returns. If you ever see a stand at a competition that carries shooting shoes of any brand, try them on and keep a record of your size in case you ever buy them.
An explanation of how the shoes should fit and feel would be very helpful too, to ensure that we have the right sized shoes.
The cutting of the rubber outer sole would benefit from more regularity in the shape.
I would have appreciated to have a recommendation on how to tie the shoes.
There's no notice with maintenance instructions. Sauer sells shoe stretchers in their website but it is not clear if we really need them or not.

Review
The Sauer Easy Top are great pistol shooting shoes, comfortable and stable. They are carefully crafted by a brand with a lot of history using quality materials. They are trusted and used by many pistol shooters from the base of the sport to the top performers. Don't expect to improve your shooting scores just by adding them and it will take you some time to get used to shooting with them, but they can be a great improvement if they fit your shooting style.